Any WooCommerce shop that sells physical goods will have some kind of inventory management to cope with. Fortunately, stock management functionality is built into WooCommerce by default.
The use of inventory controls in WooCommerce is a significant component of handling physical goods and guarantees that you do not over-sell an item. It also helps you a lot in planning wholesaler buy requests, completing backorders, and generating metrics that visualize how well your company is running and where customers are doing better.
Global Inventory Settings
These settings enable you to configure how WooCommerce manages inventory and inventory, as well as a range of thresholds that can relate to all of your shop's products.
Go to WooCommerce > Settings
Click the Products tab, then the little Inventory link

Check the option Manage Stock to enable stock on all products. You can skip this option here if you have a combination of digital and physical products and allow inventory on individual item posts (described in the next chapter)
Hold Stock (minutes) – This option determines the amount of time WooCommerce holds inventory for unpaid orders. This means that if a person has a pending order, WooCommerce will remove the item from the global inventory amount until this duration has expired. 1-4 hours is usually the optimal value. Be careful to make it too brief – the value should be equal to the average amount of time of moment that someone might spend shopping on your store before checking out.
Check the Notifications option to receive an email notifications for low or out of stock items

Enter the email to send notifications to in the Notification Recipient field
Enter a Low Stock threshold  – A low stock notification will be sent when inventory hits this amount (should be at least 1).
Enter an Out of Stock Threshold – The value in this field will determine the point in which a product is out of stock  (typically 0).
Check Out of Stock Visibility if you want to conceal out of stock products in the WooCommerce catalog.
Select a Stock Display Format for how stock should be displayed within the WooCommerce product page.
Per-Product Inventory Options
The following measures will guide you through setting inventory via the Product options panel in the Product post. For detailed information, mouse over the small (?) buttons next to each option.
Log in to the WordPress Dashboard
Go to Products and edit or create a New Product
Scroll down below the post editor to find the Product Options panel and click the Inventory tab.
Check Manage Inventory if you need to set the option on this individual product
Enter a Stock Qty for how many products you have on hand.

The stock quantity entered here will be copied to all variations. If you have a different number of blue sweaters compared to red sweaters, for example, click the Variation tab and enter the stock quantities separately in each variation.

Set the Stock Status – if the Stock Qty is zero, then the Stock Status is out of stock and vice versa.
Choose whether to Allow Backorders or not.

Enabling backorders allows customers to purchase out-of-stock items, so be sure you are equipped with a quick turnaround to avoid customer service meltdowns or charge-backs.

As noted, enable Sold Individually only to allow one of this item to be bought in a single order. This is useful if you sell one-of-a-kind items, limited editions, or collectibles.

How to hide Out of Stock products
In your WordPress Dashboard, click on inventory on the dashboard on the left and enter relevant product details like stock-keeping unit (SKU), stock quantity, stock status – whether the quantity is in stock or out of stock, etc.
If you are getting out of inventory and want to delete the stock, you can manage it from the above dashboard. You can also update your stock from the same page.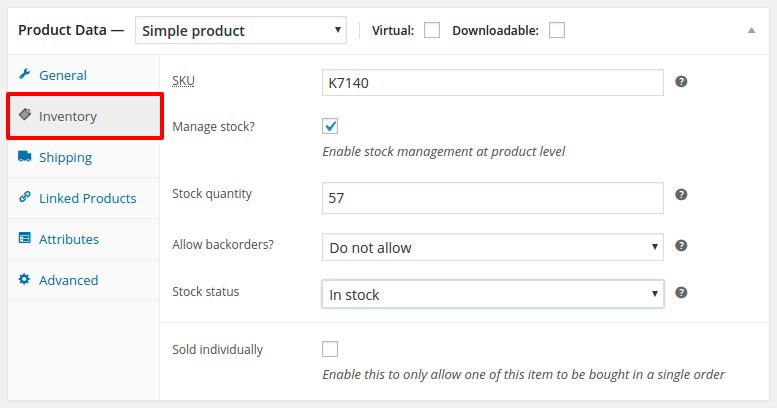 Choose whether to enable stock management. If selected, you have these options:
Manage stock

Enable stock management – Inventory for physical products is auto-managed. You enter quantity, and WooCommerce subtracts items as sales are made, displaying: Stock, Out of Stock or On Backorder.
Disable (box left unticked) – Inventory and status for physical products must be entered manually. You can still Enable Stock Management on a per-product level if desired.

Hold Stock (minutes) – Hold products (for unpaid orders) for X minutes. When the limit is reached, the pending order is canceled. Leave blank to disable.
Notifications

Enable low stock notifications
Enable out of stock notifications

Notification Recipient – Enter the desired email address for notifications.
Low Stock Threshold – Number of products to trigger a low stock notification
Out Of Stock Threshold – Number of products to trigger out of stock status.
Out Of Stock Visibility – Choose to hide out of stock items from the catalog.
Stock Display Format

Always show stock – "12 in stock."
Only show stock when low – "Only two left in stock" vs. "In stock."
Never show amount
In this tutorial, we will show you how to easily add Amazon products to WooCommerce. We will also discuss our specialist advice on increasing the income of your Amazon subsidiary.
Ready? Let's get started.
What is an Amazon Affiliate Store?
An Amazon affiliate shop is an online store promoting Amazon.com registered products for purchase.
As a shop proprietor, by incorporating connections to the goods, you deliver visitors to Amazon. Users are redirected to Amazon to finish the acquisition, and each transaction you receive an affiliate fee.
You sell products, handle instructions, transport products, and maintain track of inventory in a traditional online store. On an affiliate store, you don't need to care about any of these stuff.
Amazon affiliate shops are common with marketers because with very little cash you can get began and choose from millions of products mentioned on Amazon.
Getting Started With Amazon Affiliate Store and WooCommerce
With WooCommerce, you can begin an Amazon affiliate shop because it is the market's most common option. WooCommerce is powering millions of worldwide eCommerce pages.
You will need to create a WooCommerce store to get started. If you want to receive payments for other non-affiliate products on your blog, you will also need a hosting account, a domain name and an SSL certificate.
If you're just beginning, that's a lot of requirements.
Fortunately, we give a dedicated hosting scheme for WordPress that will allow you to get began immediately. Follow the configuration instructions in our how to create an eCommerce store with WooCommerce. It will go through the method of installing WordPress and configuring your WooCommerce store.
You will reach the WordPress dashboard that looks like this once you have completed the installation.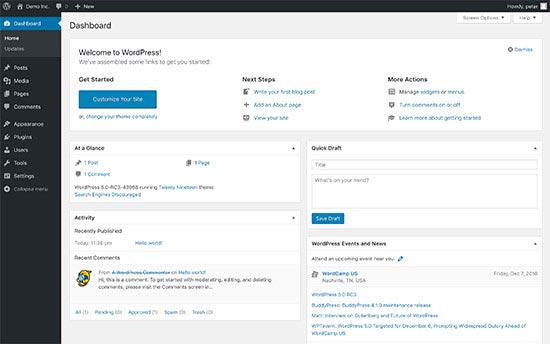 Next, the WooCommerce plugin needs to be installed and activated. See our tutorial on how to install WooCommerce for more information.
Upon deployment, the configuration wizard is started by WooCommerce to select currency, billing techniques, place, etc.
You can scroll down to the bottom of the page as you set up an associate shop and press the' Not Now' connection to avoid configuration.

If you require it it in the future, you can set up each option later.
Signing up for Amazon Affiliate Account
Now that you have installed WordPress and WooCommerce, to start adding products with your affiliate ID, you will need to sign up for an Amazon affiliate program. Head over to the page of the Amazon Affiliate program and press on the button  Join now for free.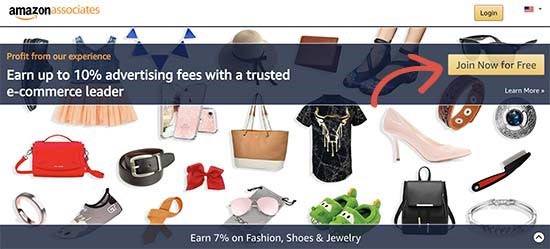 Next, use the email address and password open with that application to sign in to your current Amazon account.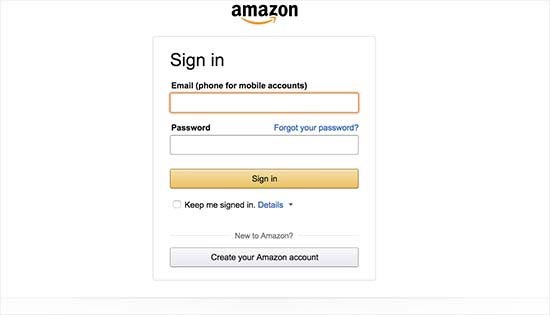 You can go ahead and create one if you don't have an Amazon account. You will have to provide payee data and address inquiries about your page once you are logged in. To complete your profile, follow the on-screen directions.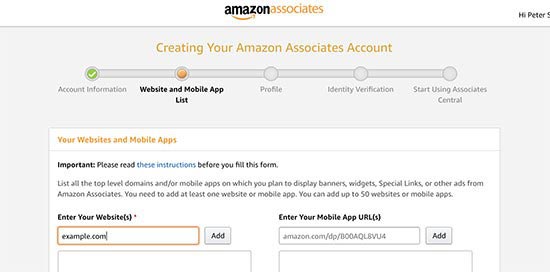 After completion, Amazon will review and approve your request.
How to Add Amazon Products to WooCommerce
WooCommerce is the Amazon affiliate's greatest WordPress shop plugin. It allows it very simple to add goods from outside subsidiaries to your blog.
Using WooCommerce enables you to seamlessly incorporate affiliate products into your store and deliver a native user experience.
You need to attend Products > Add New Page to begin importing goods.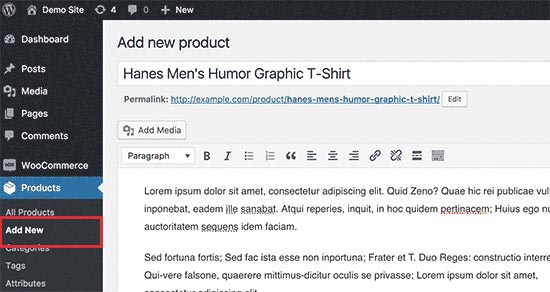 First, you must give the item you are creating a name and then send a comprehensive overview to the post editor. Scroll down to the meta panel for item information and grab ' External / Affiliate Product ' from the dropdown menu under ' Product form. '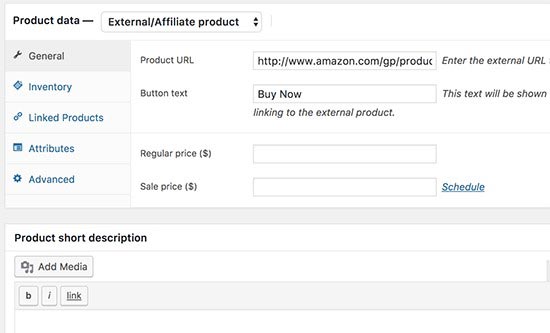 You must now submit the URL of the product affiliate. You can access the URL from the dashboard of your Amazon Associates list. Just check for the item and then press the connection key to get it.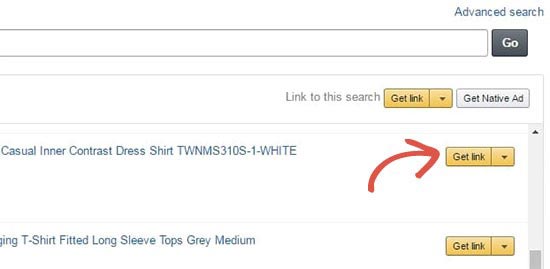 Copy and paste the URL on your WooCommerce product edit page.
Note: The' Price' field must be left empty. This will enable customers to verify Amazon.com's cost. The associate program strategies of Amazon do not enable you to access cost data individually.
You can provide a brief overview of the item below the item information. This explanation will occur on the front section of the store, query outcomes and product category websites.
You can attach a brand picture and gallery pictures to your right.
To create the product page go live on your website, you can now press the publish button.
Repeat the method of adding more affiliate products to your WooCommerce store. Once you've inserted a few Amazon products, you can go and see the products in practice on the store section on your website.
Customizing Your WordPress Amazon Affiliate Store
Themes regulate the website's image and layout. You can choose from thousands of WordPress themes. For beginners, this quantity may be quite overwhelming.
That's why we've chosen the greatest topics you can begin with by hand. Read on tutorial on the best free WooCommerce themes to learn more.
Resources to Grow Your Amazon Affiliate Store
Now that you have set up your Amazon affiliate store, you can focus on growing your business.
Fortunately, there are many tools, plugins, and resources that will help you achieve those goals.
You need to track your website traffic to find your best-selling products for Amazon affiliates as well as products that don't do that well. You're going to need Google Analytics here. See our tutorial on how to monitor WooCommerce customers using Google Analytics.
Make sure you add useful products, helpful recommendations and focused material to your blog continually, above all. Ultimately, that's what your consumers are looking for and that's what they should be striving to give.
Setting a minimum order amount in WooCommerce implies your clients need to add products to their shopping cart and achieve a specific order value to proceed with checkout.
If you offer cheaper products in your shop, the shipping cost may sometimes be more than the goods price. You can ship such orders, of course, but you often have to specify a minimum order amount in an attempt to prevent such instances.
If the shopping cart of the customer includes products of total value less than the minimum order amount, the checkout page will display an error message. Before the purchase can be finished, the client must meet the required minimum order amount.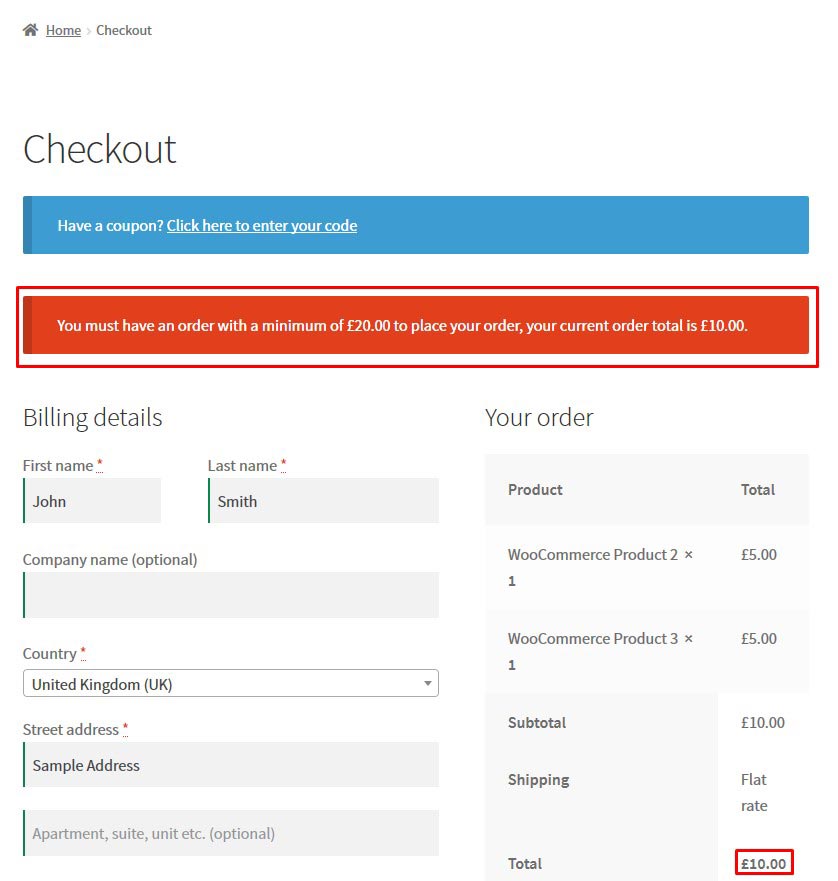 What are the benefits of minimum order amount?
The minimum order amount is intended to enable you to increase your earnings with each order. It is useful to set a minimum order amount as it can allow you to give clients better discounts while still being profitable.
A minimum purchase quantity is set depending on your total sale margin per item as well as the cost of shipping and any other expenses you have to cover before making a profit. This implies that establishing a minimum order amount can help you to stay profitable and keep good cash flow.
In many instances, considering establishing minimum order amount in WooCommerce is a great concept to guarantee that your order profit is higher than delivery costs.
In this tutorial, we will show you how to set a minimum order amount in WooCommerce.
How to enable Minimum Order Amount in WooCommerce
The feature to set a minimum order amount in WooCommerce is not present by default. To enable this functionality, you either need to install a WordPress plugin, or you need to modify your WordPress files.
For our example, we will use the plugin Booster for WooCommerce. This plugin comes with many features and tools, which extend the functionality WooCommerce comes with by default.
While it is possible to enable this functionality in WooCommerce without installing a plugin, the solution will require you to modify the files of WordPress.
To learn how to do this, please refer to this article in the official WooCommerce website: https://docs.woocommerce.com/document/minimum-order-amount/
Install the plugin Booster for WooCommere
Before proceeding with this tutorial, you will be required to have WooCommerce installed and configured. Check our in-depth tutorial on how to create an eCommerce store with WooCommerce if you are yet to create your online store.
The popular plugin Booster for WooCommerce provides many useful extensions to WooCommerce. We recommend it based on its high user rating and ease of use.
While there are other plugins available, some of them require you to purchase before you can use them. However, this is not the case with the plugin Booster for WooCommerce, since it comes with a free version which you can use for as long as you like.
Here is how to enable Minimum Order Amount with the Booster for WooCommerce plugin:
Log into your WordPress Dashboard
To install the plugin, navigate to Plugins > Add New.
For detailed instructions on how to install a plugin, read our detailed tutorial.
Search for the plugin Booster for WooCommerce by Algoritmika Ltd

Click Install
Finally, click Activate.
The plugin is now ready to use!
How to enable Minimum Order Amount in WooCommerce?
What is left for you to do is to enable the Minimum Order Amount functionality?
To proceed, navigate to WooCommerce > Booster Settings > Shipping & Orders > Order Minimum Amount.

To enable the module, click on the Enable button in the top of the page.

Next, you need to specify a minimum order amount. Fill in the required value in the Amount
Optionally, you can select if you want minimum amount not reached the message to appear on the cart page as well as on checkout page.

As well as that, you can also choose if you want to stop a customer from seeing the checkout page if minimum amount not reached.
Finally, make sure to save changes.
This completes the setup process.
It is advisable to test the minimum order amount in WooCommerce thoroughly by placing several test orders with various products added to the shopping cart.
Conclusion
Setting up Minimum Order Amount in WooCommerce is hardly mandatory – it's just good business sense when selling various products of low individual price.
If you're beginning a new online business, it makes sense to disable the minimum order amount requirement at first. Instead, it is a good idea to focus on gaining product reviews first, so that your online business gains popularity.
Ultimately, you are free to change your mind about your minimum order amount in WooCommerce and all the terms around it. With WooCommerce, you are free to experiment and see what strategy best suits your business and products.
Displaying WooCommerce Products by Category is an essential way to enhance the navigation of your store. Clear browsing is critical when it gets to eCommerce since it enables your customers to be able to quickly find what they're searching for and making quick acquisitions. Keeping your products well organized can, therefore, create a significant distinction to the experience and fulfillment of your clients.
Fortunately, WordPress involves taxonomies to categorize posts, products, and other material for WooCommerce customers. You will make it more straightforward for clients to discover their required items by placing your products into categories. Moreover, if you display WooCommerce products by categories, clients can browse and search through your inventory more effectively.
We will discuss product categories in this tutorial and how they can enhance your online store. Then we'll demonstrate how to display WooCommerce products by category easily without writing any code.
Let's start with it!
What are WooCommerce Product Categories?
Categories are a built-in feature of WordPress. They tie together posts, pages, and custom post types (such as products) with comparable characteristics. Using product categories will enhance web navigation as clients can visit a specific classification to discover particular information under a broader subject or extra content-related details that have already been accessed.
In specific, enhancing navigation can considerably boost revenues for online stores. Studies have discovered that if clients are unable to find out what they are looking for, they are inclined to leave your shop without making a purchase. To build a successful eCommerce store, it is therefore vital to organize your offers into easy to understand product categories.
Therefore, It is sensible to show products on your website grouped by categories. Your aim should be to make products easy to find for the clients. Plus, if you include search, sort, and filter to your eCommerce store, clients can rapidly browse through your products to figure out what they want. Instead of searching through your full site or clicking through a lengthy category page, they can reach the item they are looking for in seconds.
How to display WooCommerce Products by Category?
The easiest method to display WooCommerce products by category is to use a WordPress plugin. To demonstrate how you can achieve this, we will be using the plugin WooCommerce products Table. By default, it produces tables containing all the products of your store. However, it can also list products in separate tables by category with just a little modification.
While there are various other solutions, some of them might require you to modify your WordPress template files. In contrast, using a plugin will enable you to display WooCommerce products by category quick and straightforward. The instructions below will demonstrate how to build and show clear categories for your products on your website.
We'll assume you've already installed and enabled WooCommerce, and we've also added some products to your eCommerce store. You're ready to get started after that.
1. Group your WooCommerce Products by Categories, that are Relevant.
You need to generate your product categories before you can put up category tables. It is essential to note that when choosing how to arrange your products, the objective is to create it simple for clients to locate items. Therefore, you want products to be grouped in respects that will be easy for the customers to understand.
You can also generate broader parent categories that include multiple subcategories. For example, the dishes parent category could consist of the mugs, plates, and bowls subcategories. Categories of parents can be helpful for clients who have not yet chosen on particular products and only want to browse.
How to create WooCommerce Product Categories?
First of all, log into your WordPress Dashboard
Navigate to Products > Categories
On the right hand of the panel, you will see an empty category list and fields to enter new category information on the left:

Specify a category title (such as clothes, furniture, equipment, etc.)
As well as that, select a slug.
The slug is merely the end of the category-related URL. So, if you wished the yourwebsite.com/clothing URL for your class, you'd select clothing as the slug:

You will then see a drop-down menu where you can pick a parent for your new category.
If you like, you can also provide a description and upload a picture – this can be helpful for clients browsing your shop.
Also, you'll want to select the display type from the second drop-down menu. The default choice shows your categories according to the configurations of your theme:

Alternatively, you can set the display type to Products, Subcategories, or Both to show the relevant material on your topic boards. Even if you create category tables subsequently, the default category pages can still be included if you like.
Click the Add New Category button when you're completed.
Repeat this method for as many categories and sub-categories as you need.
Finally, edit each of your products and assign them to appropriate categories and subcategories.
2. Install and activate the WooCommerce Product Table plugin
With your categories created, you can now use WooCommerce Product Table to display products in your shop by category. The plugin will need to be installed and activated before you can proceed.
For a detailed tutorial on how to install a plugin manually our tutorial in the knowledge base section. Here are the short instructions:
You will need to purchase the plugin from its official website and download the .zip file which contains the plugin files.
Go back to your WordPress dashboard
Navigate to Plugins > Add New > Upload Plugin.
Select and upload the .zip file you previously downloaded.
Upon completion of the setup, press the Activate button:

On your Plugins page, navigate to of WooCommerce Product Table and click on settings:

On the settings page, the first field will be the license key. To find your license key check the email message which was sent to you during the purchase of the plugin.
Enter the key and save your changes afterward.
You are now ready to use the plugin.
3. Configure the Product Table settings
You will want to customize them to suit the demands of your store before you attach lists to the pages of your website. You can configure a range of options for modifying your tables on the Settings section of the plugin, including:
Styling your tables to suit your design or special requirements;
Specifying what information your tables should include, such as item details, pictures, add to the Cart buttons, and more;
Enabling performance-boosting options such as lazy loading charging and caching;
Adding quantity and variation selection;
Determine pagination options for large tables;
It is a good idea to look through all of the available options. Right now, though, to enhance navigation, we're trying to concentrate on incorporating search, sort, and filter features to your websites.
To do that, first scroll down to the Sorting section:


Here, you can select what information the table should use to sort the products it displays using the first drop-down menu.
The second drop-down menu determines whether the products will be shown in increasing or decreasing order.
Next, scroll down to Table Controls and turn on the Product Filters option. This will allow clients to view particular products in their lists using a filter drop-down menu:

You can also activate the search box further down and identify where it should be situated. If clients are searching for a particular product, they can enter it in the search bar to locate it rapidly in your menu.
When you are done configuring the settings, don't forget to save your changes to this page.
You are then prepared to proceed to the final phase.
4. Add the Product Category Tables to your WooCommerce Store
You are now prepared to add products category tables to appropriate pages. You've got several ways to do this. For example, in addition to or instead of the default product display, you can add individual category tables to your existing category pages. Alternatively, you can create a single page listing all your category tables, or you can add separate new pages for each.
You will need to use a shortcode to show each product category table once you have chosen which pages to use. Normally, the shortcode used by WooCommerce Product Table to show a table is the following:
However, this shortcode will show a list of all your products and not products from a particular category. Fortunately, this shortcode can be readily modified. To display only products from a certain category, the following format will be used:
All you need to do is to replace "example" with the name of the category or subcategory you want to display. Save the page afterward. This method can be repeated to generate as many distinct product tables based on categories as you need.
Conclusion
It's essential to create clear and intuitive navigation for your eCommerce shop with your conversion rate on the track. Categories are a tried and tested technique of enhancing website navigation, and selecting to show products in customized tables by category will ensure that your clients will be able to easily browse your shop.
To display Products by Category in WooCommerce, you need only:
Group your products into categories that are related.
Install the WooCommerce Product Table plugin and enable it.
Customize the configuration of your products table.
Add tables to your WooCommerce store for your product category.
It is a good idea for every eCommerce store manager to add Google Analytics to WooCommerce. By doing so, you will be able to track your WooCommerce shop to improve the knowledge of the user and increase your revenues. Learning which products sell the most in your online store is a popular exercise.
In this tutorial, we're going to show you how to add Google Analytics to WooCommerce.
What is eCommerce Tracking?
If you run a WordPress website, it is common practice to add Google Analytics to WooCommerce, as well as tracking and analyzing your website's visitors.
You are likely monitoring your website's traffic with Google Analytics already. It enables you to optimize your page for customers so that more information can be obtained. You may also monitor your WooCommerce store's activity on Google Analytics as a particular blog.
Likewise, the option improved eCommerce tracking is also available in the Google Analytics dashboard. It provides you full insight into your store's acquisitions. This choice will assist you to know your prospective customers so that you can enhance the most frequented consumer websites for your customers and create them even easier.
How to activate eCommerce tracking in Google Analytics?
To monitor your customers' purchasing behavior, you will need to enable Google Analytics eCommerce monitoring for WooCommerce. Enhanced eCommerce monitoring will assist you to obtain some significant Google Analytics statistics such as purchasing behavior, checkout behavior, product lists performance, sales efficiency, marketing statistics, and more.
These reports bring enormous advantages to your WooCommerce store.
To begin, you first need to activate the enhanced Google Analytics eCommerce. Google Analytics
If you aren't already using Google Analytics on your website, sign up for an account.
Enable Ecommerce for a view within Google Analytics for transaction data to be recorded.
Click Admin, and navigate to the view you want.
In the VIEW column, Ecommerce Settings.


Set Enable Ecommerce to ON.
Set Enable Enhanced eCommerce Reporting to On.
Save, then click on View Settings
Set the setting Currency displayed as to match your WooCommerce currency.
Save your Analytics View settings.
Optional: Set Enable Related Products to ON.
Save your Analytics View settings.
Click Next Step.
Click Submit.
How to add Google Analytics to WooCommerce?
After enabling the enhanced Google Analytics eCommerce Tracking, you are now ready to install and set up the necessary functionality on your WooCommerce online store.
Log into your WordPress Dashboard and navigate to Plugins > Add New
Search for the plugin WooCommerce Google Analytics Integration by WooCommerce.

Click the Install Now button, and then click Activate.
To configure the plugin, navigate to WooCommerce > Settings and then select the Integration.

On this page, you need to fill in the following fields:
Google Analytics Tracking Options
Next, you need to configure the tracking options for the WooCommerce Google Analytics Integration plugin.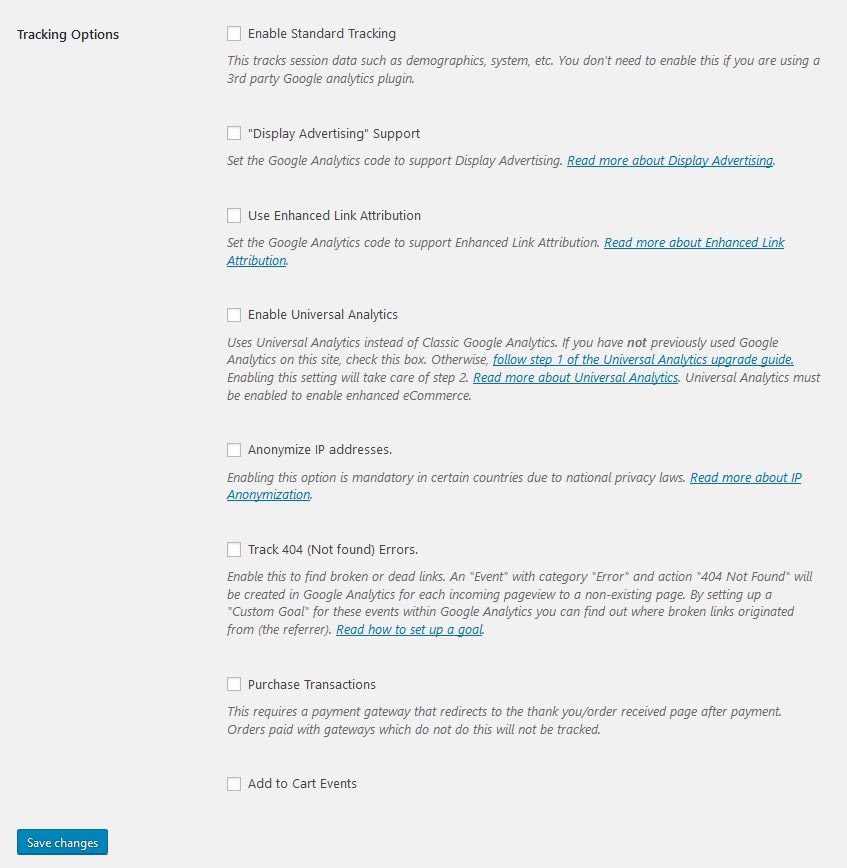 Enable Standard Tracking: This adds basic website tracking. It is needed if WooCommerce Google Analytics Integration is the only Google Analytics plugin on your site. If you are using another Google Analytics plugin for your site, leave this box unchecked.
"Display Advertising" Support: Check this box if you intend to run ads on the Google Display Network and would like these tracked in your analytics account.
Use Enhanced Link Attribution: It  improves the accuracy of your In-Page Analytics report by differentiating between several links to one URL on a single page. Select it if you have multiple links to the same URL and want to understand which are clicked more often.
Enable Universal Analytics: This is the new standard for Google Analytics. Check this box if you have not used Google Analytics on this site before. If you have used it before, upgrade to Universal Analytics. 
Anonymize IP addresses: This keeps user data more private and is mandatory in some countries. Read more about IP Anonymization.
Track 404 (Not found) Errors: Allows you to find broken or dead links. To see how many times this occurs, go to your Google Analytics account > Behavior > Events > Overview > Error.
Purchase Transactions: Track purchases on your site, including data like revenue, tax, refunds, shipping, and more. This requires a payment gateway that redirects to the thank you/order received page after payment. Some popular options that do this are Stripe, PayPal powered by Braintree, PayPal Express Checkout, and Square.
Add to Cart Events: Track when customers add a product to their cart. This allows you to see more specific details about your customers' experience and better understand where they might be dropping off.
What are the recommended Tracking Options?
If you are not sure about the tracking options, you can use our recommended settings below:
Turn off the option Enable standard tracking.
Tick Enable Universal Analytics
Tick Purchase Transactions
Tick Add to Cart Events
Tick Enable Enhanced eCommerce
Click Save changes to update the plugin settings.
It is highly recommended to log out of your website and to place a test order, including payment. After doing so, you'll need to wait 12-24 hours for Google Analytics to record and analyze the data.
What to do next after you add Google Analytics to WooCommerce?
Once you have installed and activated Google Analytics for your WooCommerce store, it is a good idea to visit Google Support for more information and best practices on goal and funnels for your WooCommerce site.
Once a few sales have rolled in, log in to Google Analytics, click on your website, then click on Conversions, eCommerce, Overview and take a look around.
The Acquisition, Overview report can also be beneficial, as it will show you the conversion rates and revenue statistics for each traffic source.
You may wish to read Google's support article, which explains what information is available once eCommerce tracking has been enabled.
With eCommerce platforms becoming easily accessible, new entrepreneurs from around the world are entering the online business. However, the sale of physical goods involves its own proportion of problems such as stock management, delivery performance, etc. In such a situation, it may be less complex to sell digital downloads with WooCommerce. Again, with digital downloads, you are awaiting many technical difficulties.
This tutorial focuses on how readily you can sell digital downloads with WooCommerce. If you ensure that your basics are correct, you can set up a successful digital download shop with WooCommerce comparatively rapidly.
How to configure Downloadable Products in WooCommerce
WooCommerce has extensive digital download choices by definition. Consider the fundamental elements of configuring your WooCommerce shop for electronic goods.
Before proceeding with the present tutorial it is a good idea to become familiar with the basics of creating your WooCommerce online store. Once you have completed this task, you are ready to proceed with the configuration of your eCommerce store for digital products.
Your first task is to set up the download method for your WooCommerce store.
Log in to your WordPress Dashboard
Go to: WooCommerce > Settings > Products > Downloadable Products.
Select a File Download Method from the dropdown.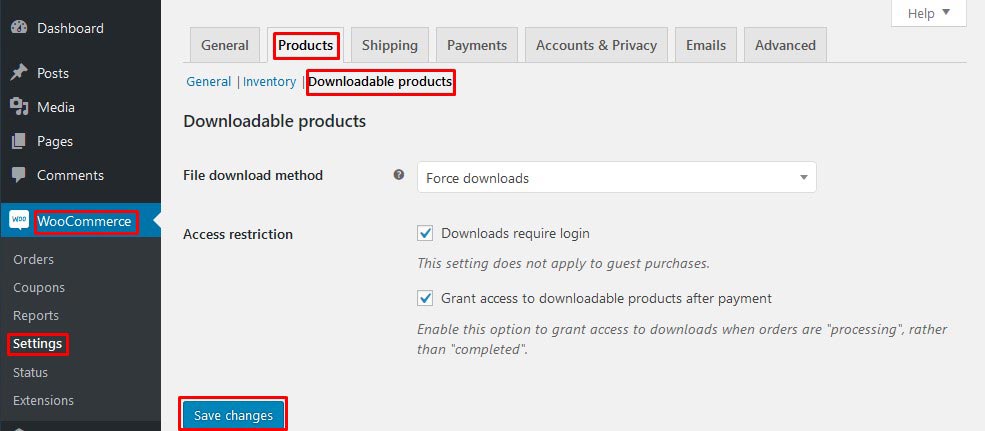 There are three various methods of downloading files available. These configurations decide how you want your digital products downloaded.
Force Download — PHP is used to force the download of the file. You can, therefore, guarantee that documents are safer. However, your servers need to be powerful, especially with large files. Timeouts can drastically impact the credibility of your store if they take place during purchases.
Redirect Only – Users are forwarded to the folder using a URL for this sort of purchase. One thing about this is that anyone with the connection can enter the folder.
X-Accel-Redirect / X-Sendfile –The client to manage the file is also available. To do so, the X-Accel-Redirect / X-Sendfile module must be installed and activated on your server. However, you must ensure that the systems are installed well in progress with your storage supplier. This download method is safe and reliable to use.
Next, set up any additional configuration options
Select a level of Access Restriction. Tick the Downloads Require Login checkbox if you want users to be logged in to download files. Guest checkout would need to be disabled.
Tick the Grant access to downloadable products after payment checkbox if you wish to grant access to files when orders are Processing, instead of Completed.
Save changes.
You can put Access Restriction once you choose the purchase method. You may request that customers log in to access the document. A nice thing in this context is that the customer checkout choice will not override that. It will operate irrespective of this situation if you enable a customer check-out on your location.
After compensation, there is an alternative to allow entry to online goods. This implies that even if the item is in' handling' condition, your clients can access products.
How to create Digital Downloads in WooCommerce
Downloadable Simple Products
To get started:
Go to: WooCommerce > Products > Add Product to add a new Simple product.
Tick the Downloadable checkbox.After ticking this box, other options appear: Downloadable Files, Download Limit.
Select the Add file button, and then name the file. If it's hosted elsewhere, enter the downloadable URL. Otherwise, select the Choose file button to either insert an existing file from your Media Library or to Upload a new file.
Then, Upload the file and click Insert to set up each downloadable file URL. Match the URL of the product to the URL of your site. (i.e., if you have a www in your site URL, then make sure that is in the file URL.)

In version 2.0+, enter one per line
In prior versions, only one file was allowed per product. Multiple files required packaging in a 'zip' file.

Enter the Download Limit (optional). Once a user hits this limit, they can no longer download the file.
Click Save.
Downloadable Variations
Variable products can also have downloadable variations. When adding a variation tick the Downloadable checkbox and more options appear.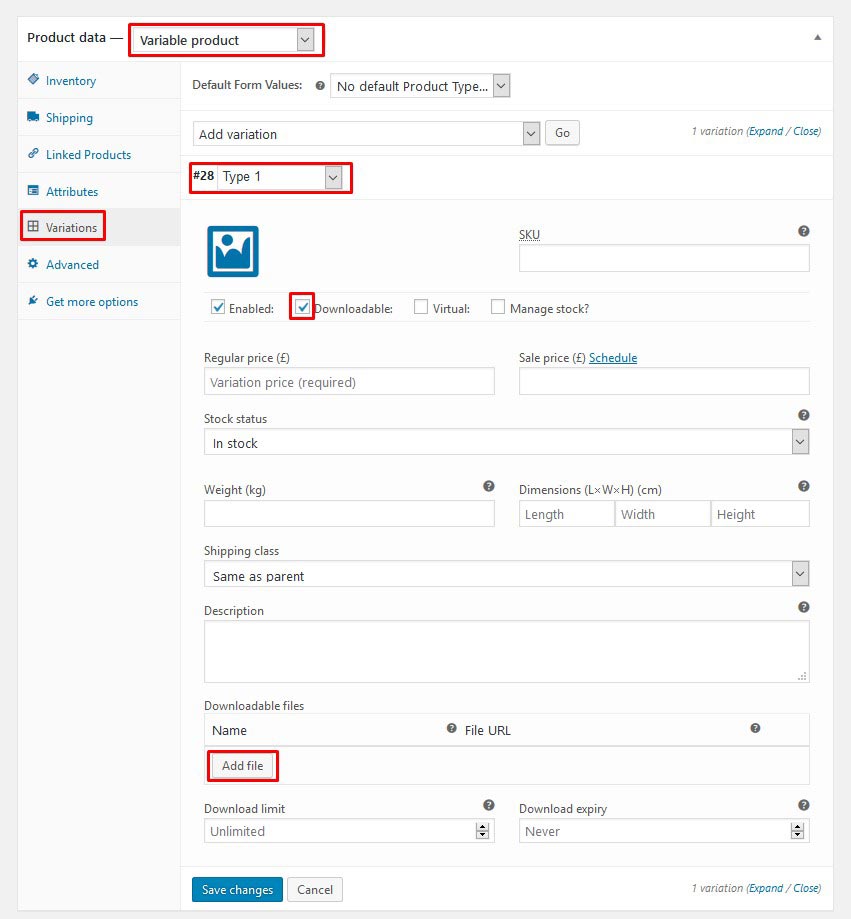 Options work the same as regular products: Set the file path, optionally choose a download limit and expiry, and save.
Combining downloadable and virtual products
If you tick the Downloadable checkboxes, products can have stock and are treated as physical products. This allows you to sell downloads and real products together.
If you want to add/sell a downloadable product that is not physical, also enable the Virtual option.
Recommendations on how to sell Digital Downloads with WooCommerce
Since buying digital products differs mildly from purchasing physical products, while operating a shop, you may have to meet some norms.
Decide how to showcase the products
It's quite simple to digitally portray your goods when you sell physical goods. All you need is to provide a few pictures and to write an exciting explanation. However, items are not that simple when it gets to digital products. You must create the main image of the product and the region of expertise. A thorough explanation of the distinctive characteristics of the item is necessary. Professional pictures from various perspectives would mostly be the game for physical products. A digital item with various screenshots can achieve the same impact, which specifies its operating conditions.
A live demonstration is another route to provide people with some knowledge. You can put up a demo page that allows consumers to verify whether an item works. Another excellent choice is video tutorials on the consumer website. Video tutorials help customers to know how easy it is to operate with your product.
Offer a basic version of the product
Product demonstrations and audio tutorials provide the customers with a good idea of their item. But nothing operates to give the client a real opportunity to enjoy the product. Free testing is a good route to familiarize clients with a software product for a given period. However, it mostly operates when you sell SaaS products (Software as a service). For goods such as WordPress plugins; however, a free item with restricted functionality seems to offer the best approach.
Once clients become accustomed to your free variant, they will be more likely to choose the preferred item. Likewise, providing to book a few websites would create value in your prospective clients for eBooks.
Increase the quality of your product descriptions
You need to handle with a nice duplicate what several pictures do for your physical products. The explanation should be able to persuade the user on your item website to touch the buy-button. You should indicate the item capacity and client utility in the outline. You must primarily tell clients how your item will facilitate their lives.
Also, you should provide the required data, which provides the client with a definite concept of what to expect with the purchase. Whether only one or several files, how to use them, where to locate the access code or button, etc. Such information is essential because; should you fail to provide these, then you can expect to receive a help ticket within hours. You must also note that in the proper location when you send something via email.
Set download limits according to the product type
When configuring WooCommerce configurations, you may have observed distinct expiry date and usage limits. You need to apply these configurations to your product type. You may wish to limit downloads to just one time, for instance, if you are buying video games. However, you may allow several apps and start up somewhat greater yields with something like eBooks. One of your main advantages is that you can alter e-commerce policies at will. If your download configurations are constantly received, you can alter their negative feedback with one button.
Sell a combination of digital and downloadable products
It's feasible with WooCommerce if you want to give a mixture of physical and online products to your shop. When clients buy both kinds of products in one place, they will receive the information of the delivery for the physical products and receive the digital directions. Another situation is that you sell the same item physically or digitally. For example, an eBook of the same title and a paperback. In this case, you don't have to create two products. Instead, you need to produce a variety that you can download.
Conclusion
It is an excellent way to attempt selling digital downloads if you are keen on establishing an eCommerce shop. It protects you from shipping problems, stock control, etc. However, it arrives with its own portion of complexities that sell digital products with WooCommerce. You will no longer have problems with a well thought-out approach on how to market digital products. WooCommerce has excellent choices in your shop for the development of digital products. There are also several additions you can use to develop a solid electronic product marketing strategy.
In this tutorial for selling services, we'll explain how to sell services using WooCommerce.
WooCommerce is the world's leading eCommerce plugin, powering over 44% of every single online store. When you think about a WordPress eCommerce module, such as WooCommerce, you most likely envision selling physical or digital items. While this is true, WooCommerce also supports virtual products. This fact makes it ideal to sell services using WooCommerce.
Even better, WooCommerce is a free WordPress plugin. While there are some paid extensions, that will assist you with selling services more efficiently; the core eCommerce plugin is free to use.
How to sell services online with WooCommerce?
A service is defined as "The activity of helping someone or doing work for somebody." Therefore, services are work that you perform physically to an individual or association. Selling services differs from selling products since you carry them out manually to every client. You can fulfill the services in person, or on the web. The key point is that you (or your representatives/temporary workers) will be personally responsible for performing services. A service can't be completely automated, because when this happens, then it turns into a product.
You can sell services utilizing a WooCommerce store by separating the sales and the provision of the service. Services can be offered similarly to products. The difference is that once a client has ordered a service on the web, you will do work for them physically as opposed to sending them an item. So you sell the services on the web and complete it physically afterward.
Here is how it works:
First, the client visits your WooCommerce Store and sees a list of offered services. The services may be displayed as a basic list of at least one service, or you may give variation choices. You may sell on-time services at a fixed cost or charge continuously. It's a good idea to consider creating repeating income by offering subscriptions to your services.
Second, the client orders the services online. The client picks any options and adds the item to the shopping cart. Then they view the cart and checkout and proceed with paying online with credit/charge card or PayPal. The client gets a 'Thank you for your order' email, and you get an email with the order information.
Finally, you contact the client to arrange when to perform the service. You can arrange the details outside of your WooCommerce store so it will fit suitably into your typical working schedule.
What are the Benefits of using eCommerce to sell services
Online payments for services.
By using WooCommerce, you can sell services and receive payments on the web. There are multiple options for payment methods to choose from, such as PayPal and Stripe. (link to payment methods article) This saves you time compared to receiving payments offline. It's also better for your sales business' income since clients pay upfront before you perform the service.
Easier to upsell.
WooCommerce includes options to sell more services through up-selling and cross-selling. This can include advertizing one service on the sales page for another service. Or on the other hand, it can include adding optional extras to encourage every client to purchase more. In any case, it's simpler to do this when you're selling services with WooCommerce.
Built-in recording and invoicing.
Without utilizing an eCommerce store, your orders aren't recorded anywhere. You need to keep up manual records about the services performed.
In contrast, an eCommerce store tracks every one of your sales and sends invoices or payment receipts. This is a major advantage of selling services online. Getting your clients to submit the data on your site is simpler than taking it via telephone or manual service work. It's also more secure doing so, for the fact that you have electronic verification that they have provided the data. This is especially important should you need your clients to agree to your service Terms and Conditions. When you're gathering data about clients, make sure your site is GDPR compliant.
Reporting.
WooCommerce includes built-in analytics and reporting. You can see statistics on who has purchased your services and which are selling best, directly in the WordPress Dashboard. This will assist you in making your service business more successful by saving you time.
Examples of services you can sell
Before we begin with the setup instructions, we'll share a few instances of services that you can sell on the web. You can utilize WooCommerce for selling services in case you're a law office, specialist, online inside architect, or some other expert offering assistance.
You can do it if you sell your time, for instance, a web designer selling specialized help continuously. It's possible to group services into products which individuals can choose and select and purchase from you, for example, some-specialized help, web-based training meetings, or online coaching. Whatever sort of services you offer, you can sell them online in WooCommerce.
Instructions for selling services using WooCommerce
2. Next, Add service products to WooCommerce
We will provide you with a description of how to do that:
Inside the WordPress dashboard, navigate to the Add Product screen. This is the place you'll add the main service to sell in WooCommerce.
Add a Product Title and Description, as well as Categories and Tags as required.
Optionally, you can also upload an item picture, although this isn't essential for selling services with WooCommerce.
Scroll down to the Product Data segment. In the General tab, tick the Virtual box and specify a price for the service.
Use the Inventory tab to set a limit for the quantity of each service that individuals can purchase from you in your WooCommerce store. This is valuable if you have constrained limit. There's additionally a container that you can tick to keep clients from purchasing more than one of each service.
Click Publish.
Go to Products > Add New and repeat this process for each service that you need to sell in WooCommerce.
3. Use product variations to offer a selection of services
In section 2, we clarified how you could make a straightforward service item with a fixed cost and no alternatives. WooCommerce additionally bolsters variable service items.
The guidelines to create a service product with various options are similar to the ones in section 2, above. However, you need to specify the product type as a Variable. To do so, follow these steps:
Go to the Product Data section and use the Product Type dropdown menu to choose Variable Product.
Next, go to the Attributes tab and click the Add button to create a new Product Attribute. Enter several different values for the attribute and make sure to tick the box Used for variations. Click the button Save attributes to continue.

Finally, go to the Variations tab and select these newly created Attributes to make Product Variations. Click the Add button to create a new Variation.

Then specify a price for each Variation. Make sure to click the Virtual box.
Finally, click the Save Changes button, and then the Publish button to update your product.
To summarize, for every service you wish to offer you need to create a Product Variation, specify a Price for it and tick the Virtual box.
Begin selling services in WooCommerce
Although you perform services physically, you can spare time and get more clients by selling services in WooCommerce. Follow the directions in this tutorial to give clients a chance to request services online utilizing WooCommerce. Doing so is the ideal approach to attract clients and sell more services.
WooCommerce Shipping is an essential part of any online business. The reason for that is that as long as you are selling physical goods, you need to be able to ship them to your customers.
It is highly recommended to configure the shipping options as soon as you complete the installation of WooCommerce. To set up WooCommerce shipping, your first task is to configure shipping zones. Next, you need to add shipping methods to those zones. Finally, you need to assign shipping rates to your methods.
You can create as many shipping zones as you like, and add multiple methods and rates to each zone.
In this tutorial, we will take a look at the settings in the WooCommerce Shipping tab. To get there:
Log into your WordPress Dashboard
Navigate to WooCommerce > Settings > Shipping.

WooCommerce Shipping Zones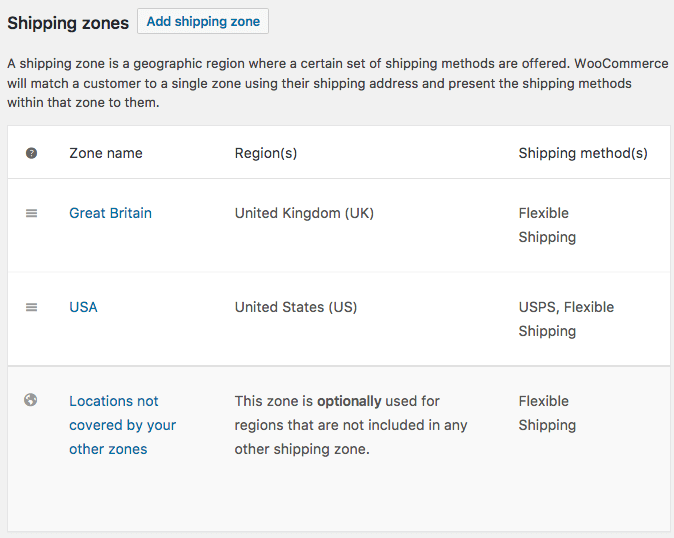 The first section is the core of WooCommerce shipping. Here is where you will be able to set up all shipping options. To begin, you need to add the main shipping zone.
A shipping zone is a geographical region where your customers are located. For example, this could be a state in the US, a country in the world, or any other geographical region.

Add shipping zone – click to add the primary zone, then assign a name to it and select the regions within the zone. In addition to that, you can constrain the shipping zone to specific postal codes by clicking the link beneath the region selection. This may prove to be helpful when you need to offer local delivery or pickup. Make sure to save the changes when you're finished.
Using quick links, you can edit a zone, remove it, or browse through the shipping methods assigned to it. To do so hover the mouse cursor over the name of the zone.
You can likewise sort the zones, however, have in mind that the customer will be given the primary shipping zone based on their delivery address. If you set up multiple zones with overlapping regions, set their order.
WooCommerce Shipping Methods
Adding a shipping zone is only the start. At that point, you'll have the option to create and configure shipping methods. Click on the in plus symbol in the column Shipping Method(s) to add one of the available methods.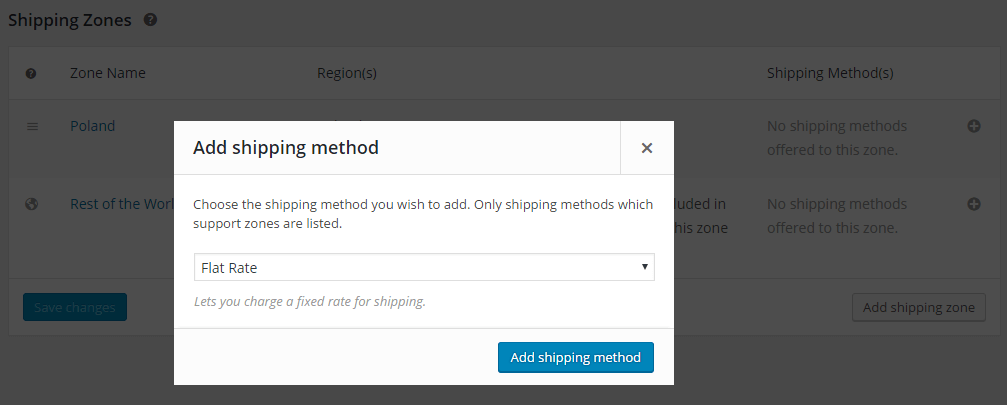 Out-of-the-box, there are three shipping methods added in WooCommerce: Flat rate, Free delivery, and Local pickup.
To configure the available shipping methods, click on the name of the selected zone.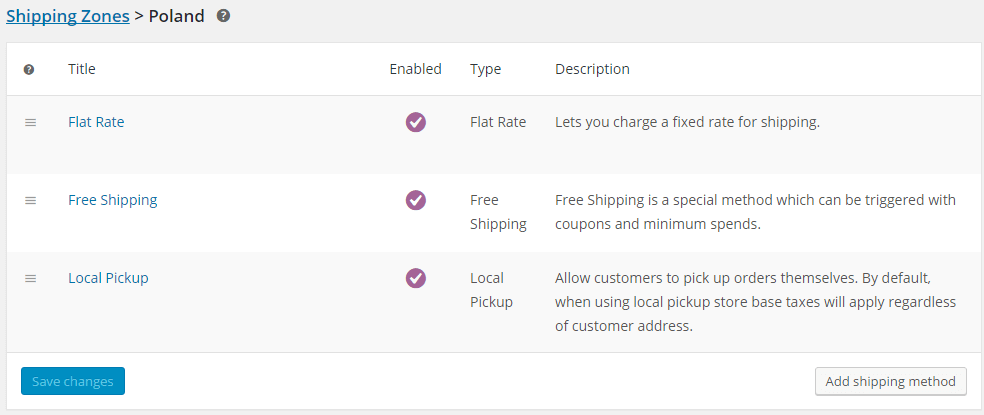 Just like the zones, the shipping methods can be sorted. It is important to consider the order of the shipping methods since they will be displayed in the same way to the customer.
The configuration of the method and its removal are accessible through quick links or just by clicking the name of the method.
Flat rate

Method Title – choose which payment method the client will see.
Tax status – choose whether the shipping method is taxable or not.
Cost – enter the price of delivery for the whole order.
Additional cost – in Cost, you may also add the cost for the number of items in the shopping cart. Here are the available choices:
[qty] – the number of items in the cart,
[fee] – additional cost with two parameters:
percent – the percentage of the whole order,
min_fee – the minimum extra cost, useful when utilizing percentage,
max_fee – the maximum additional cost, useful when utilizing percentage.
Examples:
10 + ( 1 * [qty] ) – the shipping will cost 10 USD and 1 USD additionally for every item in the cart,
20 + [fee percent="10″ min_fee="4″ max_fee="10″] – the shipping will cost 20 USD and additionally 10% of the order, yet at least 4 USD and not more than 10 USD.
Shipping Class
If you have set up your shipping classes, you will see additional fields in Flat rate settings.
Shipping Class Cost – there will be a separate field with the shipping cost for each class. The purchase is made by the order in the Shipping Classes tab. Additional cost might be set for classes.
No Shipping Class Cost – appropriate when utilizing Per Class calculator (see below).
Calculation Type – with regards to calculating the shipping cost for shipping classes, you can select one out of two possibilities:
Per Class – the shipping cost will be equal to the sum of costs for each shipping class.
Per Order – out of all the items in the shopping cart, the most expensive shipping class will be used.
Free Shipping

As the name implies, this shipping method is utilized to make the shipping free. You can select one of the options listed below:
N/A – used if you need to set the shipping free for all customers.
A valid free shipping coupon – create a coupon that allows customers to use the free shipping. Coupons are accessible in WooCommerce menu >
A minimum order amount – enter the minimum order amount that qualifies for the free shipping.
A minimum order amount or a coupon.
A minimum order amount and a coupon.
Note that coupons will also be used when the minimum order for free shipping has been set.
Local Pickup

Configuring the local pickup is similar to the flat rate. All you need to is set the title of this method. The shipping will most likely be free of charge. Therefore you can skip the tax status and the cost.
Table Rate Shipping
A lot of stores offer items of various size and weight. Because of that, Flat Rate Shipping is not suitable for them. They need a more elaborate solution to calculate the shipping cost. The solution to this problem is using the Table Rate Shipping method. This method provides store owners with a simple way to set rules to calculate advanced shipping costs.
Rules can be based on:
weight
totals
item and shipping cart item
shipping classes.
We should investigate a model. The conditions are the following:
if all items from the order weight from 1 lb to 5 lbs, add $15 to the shipping cost,
if items from shipping class 1 are contained in the shopping cart, then subtract $5 from the shipping cost,
if the order contains more than five items, then $3 to the shipping
Such conditions will appear in Table Rate in the following way:
| Rule based on | Conditions | Shipping class? | Cost to add |
| --- | --- | --- | --- |
| weight | 1-5 lbs | no, every product | $15 |
| items | any item | yes, class 1 | -$5 |
| items | 5 or more items | no, every product | $3 |
WooCommerce Shipping Options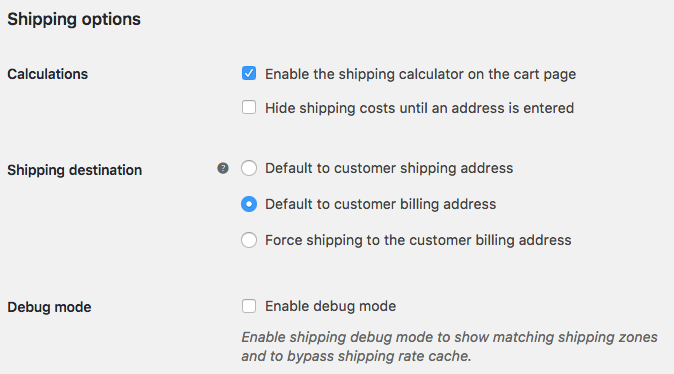 Here you can set the general options in regards to the shipping.
Enable the shipping calculator on the shipping cart page – check this option if you need the customer to have the option to ascertain the transportation cost contingent upon the shipping zone.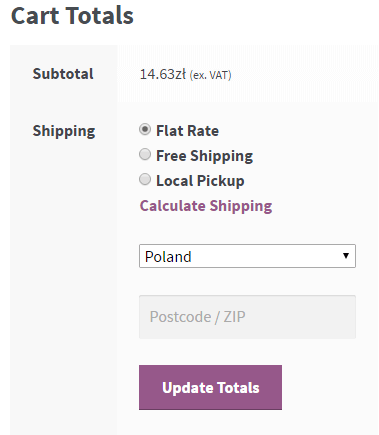 Hide delivery costs until a location is entered –check if you need the transportation cost to be noticeable just upon the rundown of the request.
Shipping Destination – choose which address is the default delivery address.
WooCommerce Shipping Classes
Shipping Classes is a vital tool when selling products of various sizes.

Click Add shipping class and provide Shipping Class Name and Description for your reference. Slug is a unique identification; it will be automatically generated if you leave this field empty.
To edit or delete a shipping class, hover the cursor over the name of the class.
How to Assign Shipping Classes to Items
To assign a shipping class to an item, go to the Products menu > Edit a select item > Product Data > Shipping.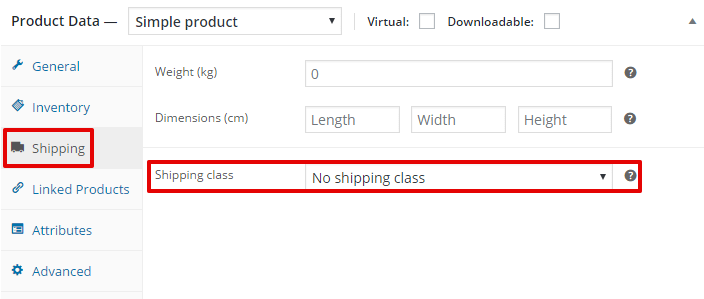 There you need to select the shipping class you've created and update the item.
If there are variations of the product, you can assign separate shipping classes for every item. Go to Variations in the Product Data tab.
How to assign shipping classes to a group of items
You can also assign the selected shipping class to several items at once.
Go to the Products menu and select several items. Then select Edit from the Bulk Actions list and finally click Apply.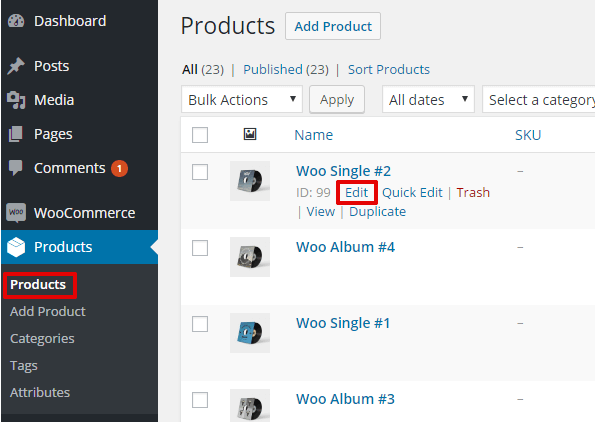 Select Shipping Class from the list.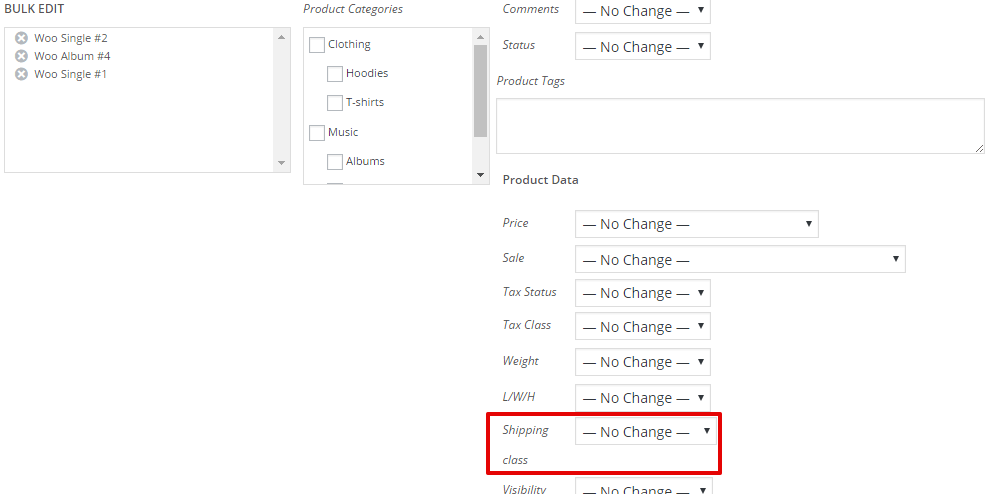 Finally, click Update, and it's all done!
Summary
Ever Since shipping zones have been introduced in WooCommerce, the process of configuring the shipping methods has become convenient for store owners. At present, there are multiple options of differentiating the shipping costs to various regions such as particular countries or groups of countries.
The Payment Gateways which are offered in the WooCommerce plugin are among the best solutions for processing payments online. Those are PayPal Pro, Stripe, Square Inc, Authorize.net, just to mention a few. Besides the ones that come included with WooCommerce, there are also multiple WooCommerce extensions to choose from.
What is a Payment Gateway?
Nowadays, almost 2 billion people are making purchases online. As a result, it is not surprising that often, customers also choose to pay online for the goods or services they buy. To be able to offer them the option for online payment, you need a payment gateway for your eCommerce store.
The payment gateway is a software application. It is used to securely process the payment transactions from your eCommerce website to your bank account. Additionally, payment gateways also send you back a confirmation that the transaction has been accepted by the corresponding bank that authorizes the payment.
Furthermore, payment gateways can work with many types of payment methods, such as credit or debit cards, e-wallets, cheques, and so on. Finally, some payment gateways can automatically add the tax to the final payment amount, or they can make fraud checks.
Unfortunately, a direct connection to a bank is a feasible solution for large businesses only. For this reason, payment gateways are the most common way to conveniently and securely implement online payments for a website.
How to Choose Payment Gateway to add to WooCommerce
There are multiple factors that you should consider when you choose a WooCommerce Payment Gateway. To help you make your comparison, we will specify the top 5 important factors you should consider. Afterward, you should be able to select one or more payment gateways that best fit your needs.
The Location of Customers and your Business
First of all, your business location is the first factor that you need to take into account. For example, if your business is located in the US, Canada or the EU, you'll have much more options for Payment Gateways available to choose from than the merchants based in the rest of the world. There are several gateways which operate worldwide. For example, PayPal is a universal option wherever you're located.
Another important factor which is essential in selecting a Payment Gateway is the location of your customers. Therefore, if a big number of your customers are located in your own country, you may consider searching for a domestic solution within your area. In this way, your customers will be able to choose a payment gateway that they are well acquainted with and trust. In addition to that, you may also add a worldwide renowned payment gateway for your international customers.
Direct and Redirect Checkout Types
Furthermore, there are two checkout types, direct and redirect. The direct one keeps the customers on your website. However, you have to maintain a strong security level for your website, be compliant with the PCI Standard, and have an updated SSL certificate. Otherwise, there is a risk to get security issues and lose customers. Once negative feedback starts spreading, it will be very hard to gain back the trust of your customers.
In contrast, the redirect checkout method sends the customers to a separate page. This is where your customers enter their payment information and proceed with the transaction. Many customers feel uneasy about giving their payment details to third parties, and you may experience customers' withdrawal with this option as well. Nevertheless, if you're not able to maintain a good security level for direct checkout, you should choose the redirect checkout method.
Finally, there is a hybrid option that allows you to implement redirect checkout within an iframe tag in the HTML code of your website. In this way, you don't take care of security yourself, but your customers still get the impression that the payment is made on your website.
Payment Gateway Fees
Last, but not least comes the assessment of the fees. Those are the costs that you or your customers need to pay to use the service of a particular payment gateway. It's obvious that the fewer fees you or your customers need to pay, the better. Determine your budget as well, and decide which of the payment gateways' fees you can or you'd like to afford.
Security of Payment Gateways
Another important factor is Security, which is king in the payment process. For this reason, when you choose your payment gateway, you must check its PCI level, data encryption availability, 3D Secure. As well as that, you should find out if it complies with the data privacy and protection requirements, and how it detects and handles fraud.
Customer Satisfaction
Besides security, your customers also need a smooth and convenient checkout process. Their user experience on their first encounter with your website will determine if they will become returning customers or not. And you also need to keep them satisfied each time they return. Always have in mind that word of mouth from a happy customer is priceless marketing for your business.
Think of any additional criteria that might be specific to your business and add them to the ones listed above. Try to think about every aspect before you make your choice.
How to Install Additional Payment Gateways in WooCommerce
Once you've completed your WooCommerce Payment Gateways comparison and you've chosen the payment gateways that cover your needs and requirements, then you're ready to install your desired WooCommerce Payment  Gateway.
WooCommerce Payment Gateways are installed in just the same way as any other WordPress plugin. To proceed:
Log into your website dashboard and go to Plugins > Add New

In the search field, enter the name of the desired WooCommerce Payment Gateway extension. Press enter on your keyboard.
As an example, we will show you how to install the Stripe Payment Gateway for WooCommerce. Make sure that the plugin author is Automattic/WooCommerce.

Click Install Now and Activate.


Go to WooCommerce > Settings > Payment > Stripe and start configuring the payment options that you'd like to offer on your website. Some of the payment gateways may require creating an account on their websites and making additional settings there.

Our Tutorial ends here. For further information on configuring the Stripe Payment Gateway for WooCommerce, please visit the official website.
The installation process of any other WooCommerce Payment Gateway is similar, therefore you will be able to install any other Payment Gateway via the same process.
Before you install WooCommerce, it is highly recommended to take a moment and review the hosting requirements. Doing so will ensure that your WooCommerce store will run smoothly. If you need a new host or don't have one yet see our WordPress Hosting Plan who can get you set up with WooCommerce right away.
Install WooCommerce
Depending on whether you are about to create a new website, or you already have a WordPress website and wish to install WooCommerce to it, refer to one of the options below:
Create a New Website
If you are about to start creating your website from scratch, the first step you would need to take is to install WordPress. If you already have WordPress installed for your website, you can skip this step.
Please note that for your new website you would need to have a domain name and a hosting plan. If you do not yet have a domain name and hosting, then it's time to acquire these now. With AwardSpace, you can purchase both services with a single order!
You can perform the installation effortlessly by using our automated One-Click installer – Zacky Installer.  For your convenience, the WooCommerce plugin for WordPress is also included in the automatic installer. In this way, you can set up your online store effortlessly by following the step-by-step installation wizard.
Go to your Hosting Control Panel -> Website Manager and select "Zacky Installer" to access the auto installer.

Select the WordPress platform from the list of available options. Click "Next".

Choose a website theme (optional) – you can change the theme later from the WordPress Dashboard. Click "Next".
Choose themes – select the "WooCommerce" plugin. Click "Next".

Select a Domain name for your website.

On the same page, choose a website title.

Still on the same page, provide website administrator login information. Click "Next".

On the last page you will be presented with your selected options. Review them, and once you feel that everything is correct click the "Install Now!" button.

This concludes the installation of WordPress and WooCommerce using our Automatic One-Click Installer: Zacky Installer.
Install WooCommerce to an existing WordPress Website.
If you have an existing WordPress site and want to add eCommerce functionality to it, what you need to do is install the WooCommerce plugin.
Install WooCommerce using the WordPress Dashboard
This method is the most straightforward approach to install WooCommerce. You will perform the installation using the WordPress Dashboard, as it handles everything for you.
Log into your WordPress Dashboard
Navigate to: Plugins > Add New.
Search for "WooCommerce."
Look at the results and select the one by "Automattic."
Click on the "Install Now" button.

Finally, press the "Activate Now" button.
In some occasions, you may instead prefer to install the WooCommerce plugin manually.
Install WooCommerce Using FTP Manager.
For this method, you will need an FTP manager software. We would recommend the free software Filezilla.
To start, you would need to download the archive file containing the WooCommerce installation files from the official WooCommerce website.

Extract the archive on your local computer. When finished unpacking, you will end up with a folder named "WooCommerce."

Establish FTP connection to your hosting disk space. FTP managers have two "sides," where the one is your local drive, and the other is your hosting server.

On the hosting disk space, browse to your WordPress installation folder and head to the wp-content/plugins folder.
On your local computer navigate to the WooCommerce folder.
Select the whole folder and move it to "wp-content/plugins" folder on your server using drag&drop.
Wait until the upload process finishes.
Log into your WordPress Dashboard and head to "Plugins." Your WooCommerce plugin should now be listed with all of the other plugins (if not, you probably have uploaded it to the wrong folder).

Now, go ahead and click the "Activate" button next to the WooCommerce plugin.
This concludes the WooCommerce installation tutorial. After installing WooCommerce, you are ready to start the WooCommerce Setup Wizard!