We have already covered in our previous article how to create an email account. In this article we will take a look at the Email Alias feature in the AwardSpace control panel.
What is an Email Alias
An email alias is an additional email address for an email account. It can both send and receive emails. However, the Alias does not have a mailbox. Instead, the emails will be received in the recipient's mailbox. You can create multiple Aliases for a single email account with different domains or even with the same domain. You can also set additional recipients, thus the Email Alias can be used for forwarding emails.
How to Create an Email Alias?
You can easily create an email alias by following the below mentioned process:
Log into your AwardSpace website hosting account.
Go to the Email Accounts section.
Select the Create E-mail Alias tab.
Choose a name for your alias.
Click on the Advanced Settings link.
Enter the recipient's email address.
Click Create.
Note: If the email address belonging to the recipient is hosted in the same AwardSpace account, you can select the account from the E-mail Recipient drop-down menu list. If the recipient's email address is hosted on an external server, please enter the destination address in the External E-mail Recipient field.
How Can I See or Add Recipients?
To view the current list of recipients, open the E-mail Aliases tab and click on your forwarding address (alias). To view the list, click on the View Recipients link.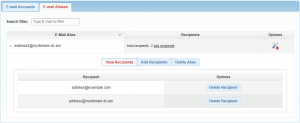 If you wish to add more recipients to the current email alias's list, click on the Add Recipients link and enter the email address in the External E-mail Recipient box.

---
Keep reading