 WordPress
Tutorials

I want to create a website with WordPress, but I don't know where to start.
We've all been there. WordPress is by far the easiest way to create a website. And even so, building a website could be very confusing. That's why in this WordPress Tutorial, we will provide you with the information necessary to create both simple and complex websites. So you won't have to figure out everything by yourself.
You check out our full guide on how to create a website with WordPress, or you can dive in the separate tutorials.
In which case, the first thing you should know is How to Install WordPress. Once that is cleared, and you've installed WordPress on your chosen domain name, you'll need to Enter the WordPress Admin Panel.
In case you already have a WordPress website, but you want to use AwardSpace's WordPress Hosting, check out our article on How to Migrate a WordPress Website.
On the other hand, if you are not at all familiar with WordPress, we highly recommend you to check out our Start Here section and take the time to learn the terminology, so you'll be able to use the CMS the right way. And furthermore, to understand the tutorials effortlessly.
NB! Don't forget to Update Your WordPress
Learning how to move blocks in WordPress will allow you to rearrange the contents of your posts and pages.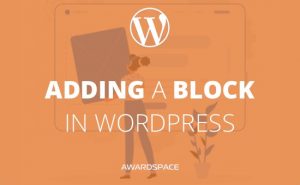 Adding blocks in WordPress allows you to insert new content in your posts and pages. So, learn the different ways of inserting blocks today!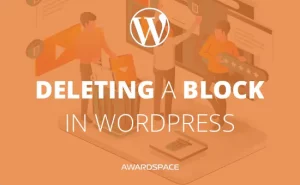 Learn how to delete blocks in WordPress so that you can remove old, outdated, or inaccurate content from your website.