Our Values
This is What We Stand For.
We've started AwardSpace in the year 2003. Although back then there were free services, none of them was anything like what AwardSpace was and still is.
No one was offering a truly free hosting service, that gives you – the customer – the freedom to create whatever, and whenever you might wish to.
Since the 2003 AwardSpace is trying to achieve one thing, and one thing only. To give everyone the opportunity to create a website, and to be online.
We believe that everyone has the right to get their voice heard, and their opinion taken into account.
Everyone's idea deserves the fair estimation of people all around the world. And if your website gets the attention you are hoping for, more power to you.
This is what we stand for.
This is what AwardSpace is.
This is where ideas turn into websites.
<! ========= Cool Timeline Free 2.7.1 =========>
Since 2003
New website design and purposive services
A brand new website was launched. Yet, AwardSpace still stands behind its core values.  We are striving to be a reliable partner to you – our customers. We've introduced purposeful services like WordPress Hosting, and of course the complimentary WordPress tutorials. We aim to preserve our image of a reliable partner in the long term.  Thus, we are still making effort in being better, and support you – our audience – in making your way to success!
Free Hosting Improved Parameters
In all our efforts in the past 10 years we've been committed to encouraging the entrepreneurial spirit in people, both in our employees and our clients. While our free hosting helped over one million people around the world to start their online presence with no investment, as of today we are aware, our free hosting plan was somewhat limiting for people who wanted to play around and experiment before committing to a premium service.
In an effort to remove that obstacle, we increased the disk space with 400% and the allowed file size with 700%, so everyone can create a functioning website, for free.
Control Panel New Version
All Hosting services are now managed by a new version of the Control Panel. The new release aims to simplify the user interface, add functionality and create a better user experience. The main changes in this new version are mainly in the new Domain Manager section, which combines the old Domain Manager section + all the features from the Domain Control Panel and the old Subdomain Manager section. A Dashboard is introduced where you can drag and drop your most often used sections of the panel. The new version has entirely new skin and 3 color themes: red, blue and grey.
Semi-Dedicated Hosting Launch
Offering services ranging from free hosting to a VPS Server we felt that there is a missing link between shared premium hosting plans and Virtual Servers. While the first is suitable for sites with low to middle volumes of traffic and modest overall load, VPSs are quite sophisticated and sometimes just too expensive to some customers. This inspired our team to create a middle-range service, we called Semi-Dedicated Hosting. By its nature it is like shared hosting but with much less clients per server which offers better RAM, CPU and MySQL database performance and allows more customization than shared hosting while avoiding the complexity of a VPS.
VPS Hosting Launch
Virtual Private Servers, also called VPS Hosting are available on Awardspace since 2009. Our VPSs are powered by the XEN virtualization technology – each server has its own OS and ability to be rebooted and customized according to the preferences of every specific client. Our VPSs are equipped with our proprietary shared hosting Control Panel making the process of managing a server very user friendly.
Zacky Tools – Automated Script Installer
Around 2005 – 2006, Content Management Systems (a.k.a. CMSs) comprised 99% of the hosted websites on our servers. Content Management Systems like Joomla and WordPress were becoming more commonly used for managing newsletters, digital marketing tools, online shopping carts etc. All these systems needed hosting to become live but it was hard for some users to set them up. Our solution was to implement an automated installation of various CMSs for our customers as a time saver and a convenience. While many hosting providers were using third party platforms for installation of their clients' CMSs we developed our own, called Zacky Tools Installer named after the nickname of the person in the company who implemented this feature.
The Zacky App Installer in its full version is available only to premium customers and offers only Joomla and WordPress automatic installations to the free hosting users.
ResellerCluster.com was born – Free Reseller Hosting Program
When we were creating the concept of ResellerCluster, we wanted the program to offer a complete solution for everybody to start a hosting company. The target group of resellers was all webmasters or other online geeks that can build traffic to their reseller website or already have a brand and a website and are looking for opportunities how to complement their services and further monetize their traffic.
ResellerCluster became a pioneer in the field of offering the opportunity for resellers to capture the value of providing free web hosting – a great marketing model that was later on coined as the freemium model of marketing. Take a moment to visit our free reseller hosting website to learn more.
Free Reseller Hosting Services
Pioneering in the free web hosting segment is an incredible opportunity as it comes with a great community of webmasters sharing their thoughts, stories and recommendations. Having to consider how we would evolve in the future we knew that Awardspace had to have a reseller hosting service. Conventional reseller hosting services (paid upfront) however were contradicting with our mission to provide free services primarily and deliver premium paid service only to those that have grown and can afford it.
It was only logical that we would like to launch a reseller hosting service only if it is free for our resellers and on their side they could deliver free web hosting services to their clients. The idea was that everybody that wanted to become a reseller could create their own free web hosting service like Awardspace.com and this is how the concept for ResellerCluster was born.
Premium Web Hosting Services
Being in the position of one of the top 10 free web hosting providers in the world is wonderful and at the same time a great commitment to our users and their needs. Free web hosting was a fabulous opportunity for everybody to start their online presence, however was insufficient for the ones that had become webmasters or had e-commerce websites with hundreds of thousands visitors. In 2005 we launched our first premium service, which was a premium shared hosting service – featuring 3 web hosting plans for the increasing needs of our free users.
Apart of the news for premium service being a fact, what most pleased our users was the seamless and automatic account upgrade process from a free hosting account to a premium hosting account and server, without a manual migration process and no downtime whatsoever.
Awardspace.com was born – free LAMP hosting
AWARDSPACE.COM was launched providing free LAMP hosting without banner ads injection on users' pages. The demand for such service was immense and it became byword for providing free php and MySQL hosting with no banners and no expiration date. The company was founded by pooling together the extensive expertise and knowledge of its two mother companies Zetta Hosting Solutions ltd. and AttractSoft GmbH. Zetta Hosting Solutions ltd. is a company founded in 2002 as a hosting development company providing Free HTML Hosting and AttractSoft GmbH is a Germany-based company that has become a leader in the field of software development and software outsourcing.
The whole story began in 2003
The idea about offering free LAMP hosting (Linux, Apache, MySQL, PHP) started back in 2003. The opportunity was seized by the Awardspace CEO, who was by that time running one of the first pure html free hosting companies. Free HTML hosting companies were just a few (this was the so called web 1.0 era, for hosting static web sites, where content creators were little and most of the users were acting as consumers). While html hosting (web 1.0) was really booming the new trends in hosting was dynamic HTML that had the ability to change its content by users interacting and collaborating with each other and in that way participating and communicating in a virtual community on a specific website i.e. forum websites.
Let's Meet
Company Office.


Germany, Schauenburgerstr. 116, 24118, Kiel

]

What we Are Working With
Data Center.
Facility Technical Parameters
ISO:9001 Quality Management System
ISO:27001 Information Security System certified.
Redundant fiber optic connections with diverse physical paths
Diverse cable entries and Meet Me Rooms (MMRs)
Independent and alternative telecom and fiber providers
A, B, C and D Diesel Generator Groups
VESDA – Very Early Smoke Detection Apparatus
FM200 – fire extinguishing agent
Redundant support systems
Leak Detection System
Redundant (N+1) Air Conditioning System with hot-and-cold row configuration
Completely independent (N+1) A, B, C, D, E and F UPS 220V AC power feeds
Completely independent (N+1) A, B, C, D, E and F 48V DC with starting configuration of 600Amps for each
24x7x365 on-site MSC, customer access, video surveillance CCTV, Hands and Eyes Services, physical security

Strategic Location of Data Center
Our Data Center is located in Sofia, Bulgaria, Europe. The country resides in southeastern Europe and is notable for being ranked in the top 20 states with the fastest Internet speed in the world. Average connection speed peaks at 50 Mbit/s surpassing tech-savvy countries such as the US and UK. The data center is Telepoint and is Tier 3+ Carrier Neutral Data Center allowing us to optimize our colocation costs and provide free and premium hosting at a fraction of the price compared to other providers.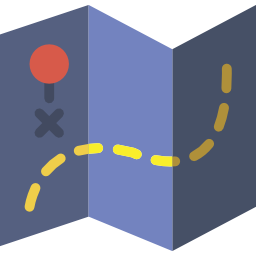 Clustered Hosting Platform
Our clustered hosting platform combines the extensive experience gained throughout the years by the mother companies that have established AWARDSPACE.COM. The second-tier hosting engine was based on past know-how and additional improvements were introduced to achieve unparalleled performance. We rely on spreading the load through distributed storage system designed for excellent performance and scalability on different machines and thus ensure a smooth-running service.
Top-of-the-Line Server Hardware
Our server's parameters are as follows, CPU Processors: Intel® Xeon® @ 2400 MHz, RAM memory: 8-64 GB, Operation System: Debian Linux. All of our servers are clustered using unified, distributed storage system designed for excellent performance, reliability and scalability to balance and withstand enormous loads.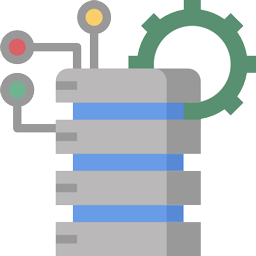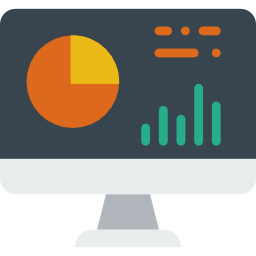 24/7 Data Center Monitoring
Highly qualified professional technicians are monitoring the hosting platform's performance around the clock. They handle the full spectrum of problems as they occur and act in the most efficient way possible to minimize downtime or service failures.
Our Promise to You
Guarantees.
99.9% Uptime Guarantee
We guarantee a ninety-nine point nine percent up-time on our paid services network. A dedicated team of customer support staff and administrators are working night and day to achieve good service level.
30 Days Money-Back Guarantee
A no-questions-asked refund within the first 30 days is our commitment to our clients. If you are not satisfied with our web hosting service ask for your money back – risk free!
24/7/365 Monitoring
Round-the-clock monitoring, emergency maintenance, fast and efficient help to clients' request, these are our customer support's daily tasks.
100% Industry Quality
Unlikely other web hosting companies, we do not rely on third party software solutions! We develop our clustered hosting platform from start to finish. This option, when combined with our top-of-the-line hardware, achieves an unbeatable service quality.
Technology Innovation
AwardSpace has a large in-house development department, that built our hosting platform from the ground and are advancing it on a daily basis. Being close to the core and creators of our hosting system allows us to constantly deploy new and innovative technologies.
Test Hosting Free
If you are still not convinced that we are the web hosting company for you, test our services for free. Sign up for a free web hosting account with your name and email address to test our services without any obligations!
Why AwardSpace
Our Advantages.
AwardSpace's advantages are our arguments why we think we are more competitive compared to other web hosting companies.
The following is a summary of real proving points.
Our first advantage is our FREE hosting service that comes with absolutely NO obligations. Moreover, this applies to our paid hosting as well – we offer a 30-day no-questions-asked Money-Back Guarantee in case you are not completely satisfied with our service. Besides this, our excellent network up-time and round-the-clock customer support are what please our clients.
Apart from our excellent customer service and risk-free hosting plans, we are proud to say that the entire hosting platform we run your websites on is our life's work. Our in-house developments are our clustered hosting platform along with all user control panel interfaces (Web Hosting, Domain, SSL and Server Control Panels).
The fact that we have developed each part of the hosting system allows us to enhance it over time and maintain it quickly and efficiently – delivering better service to you – our clients.
Before you buy, you have the chance to try our free shared hosting – sign up with just your name and email address.
We offer a 30-day no-questions-asked money-back guarantee on our premium plans.
We have a dedicated team that works to achieve 99.9% Network Uptime
We provide 24/7 Technical Customer Support over ticketing system and guarantee 1 hour response time
What People Say About Us
Reviews and Awards.
AWARDSPACE.COM has won numerous awards for offering one of the best hosting services from several of the top web hosting critic sites. On this page we present all of our awards under the AWARDSPACE.COM Awards section.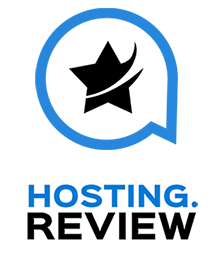 Hosting.Review about AwardSpace's free hosting
With great honor, AwardSpace receives kind words from Hosting.Review's passionate team. The review sums up the great advantages of the free hosting provided and evaluates it as a great one.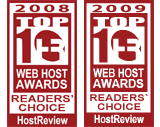 HostReview.com TOP 10 Readers' Choice Award
We are proud to have received the top 10 Readers' Choice Award 2008/2009 from HostReview. They are the leaders in the industry of ratings for Hosting companies globally.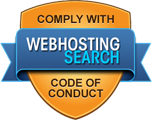 Web Hosting Code of Conduct
It is an honor for AWARDSPACE.COM to be listed as the most trusted hosting provider on one of the biggest hosting directory sites. We meet all the requirements of hosting code of ethics.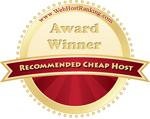 Recommended Cheap Host Award
Webhostranking.com is an independent resource for finding the most reliable and affordable web hosting services. We are glad to receive the Recommended Cheap Host award.

Top 5 at Absolutely-free-hosting.com
Absolutely-free-hosting.com is an editorial reviews-driven web site that provides access to the best free host on the Internet.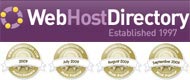 Web Host Directory Top 3 UNIX Web Hosting Award
With over 10 years of expertise, Web Hosting Directory provides a neutral site for companies that offer hosting products, giving awards only to those that exceed the industry standard.

Top 3 Hosts at 1webhostreview.com
1webhostreview.com is an independent editorial and user review site which features many of the leading sites in the web hosting industry.





Where Ideas Turn Into Websites