You Are Few Steps from Owning a Website
Learn How to Create a Website for Free.
1. Create a Free AwardSpace Account
AwardSpace is the pioneer of free hosting. Now you can create an account with our one-click signup form. Doing so is the first step of getting your very own website without spending a dime.
2. Register a Custom Domain Name
Having a beautifully designed website will surely let you distinguish your blog from others, but what works even better is having your own custom domain name. To pick the best name, look for one that is memorable, short, and, of course, matches your business.
If you choose to go with Web Pro or the Max Pack WordPress Hosting packages, you can get up to two free domains as well.
3. Install a CMS
The easiest way to create a website for free is to use one of the Open Source website creation and management software, a.k.a. Content Management Systems.
When you create a free account, you can choose a CMS, and proceed with its installation.
4. Enjoy Your Website
After you've signed with one click, and clicked once again to install a CMS, you are now ready to enjoy your website.
Step by step
Create a Website for Free.
AwardSpace is the pioneer of the free web hosting industry. But being the first to do something is never enough for us. We are constantly improving our service, striving to make it easier for you, our customers, not only to get a hosting service for free but to be able to utilize it to its fullest.
Join the #1 free hosting community!
Join for free with Facebook, Google
or use email:
1. Create a Free AwardSpace Account
Every website needs hosting. As a pioneer in the free web hosting industry AwardSpace offers a secure and up-to-date infrastructure for every online endeavor.
AwardSpace is giving people the opportunity to create their own websites for free since 2003, and we'll continue doing so in the future.
The resources promised to our clients, will be at their disposal for as long as they need them.
If you choose to use a free subdomain(s), you can, not only make the website of your dreams for free but also keep it forever. At no cost.
Use the form to create a free web hosting account. Doing so will let you create your own website without spending a dime.
2. Register a Custom Domain Name
A domain name is one of the mandatory ingredients for anyone who wants to have a personal website. In a word, the domain name is the web address of the website. This is what the users will write or look for when they want to open your website.
With AwardSpace creating a website is simple. Once you got your free account, you can continue the process by getting a custom domain name for your blog, online shop, or other web-based business.
Although the best approach to website creation is by using a TLD (Top-Level Domain), you can create your website on a free domain or a free subdomain. Both of which are available for all of AwardSpace's users.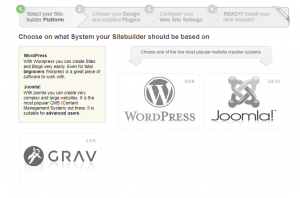 3. Install a CMS or use our Free Website Builder
Here is the thing, WordPress is not the only CMS available on the market. What is more, installing a CMS is not the only way to create the website you want.
And while the free account that you are about to create will let you choose between three content management systems, namely WordPress, Joomla, and Grav, any of the premium web hosting plans of AwardSpace offers a significantly more extensive choice.
The
best web hosting
plans of AwardSpace include free domain name registration.
Still, installing a CMS, and using our free website builder are available for each and every one of our users.
Whether you choose one of the CMS' or the website builder is only up to you.
But, of course, you need to keep in mind that every website building methodology has its specificities.
For a steady, business card website, the easiest way to go is with a website builder. On the other hand, if you are about to create a blog or any type of website where the content will be updated frequently, it's better to choose a CMS.
4. Enjoy Your Website
Congratulations! You have created your very own website. And for free.
What now?
Well, tell your friends. Tell everyone. Your thoughts and ideas are now online. Of course, you'll have to start creating and editing your content.
But you probably knew that. After all, you knew that a website needs maintenance, attention, and care.
Yet, now that you've built your website for free, you can invest your resources in its mending and spread.
Anyway, the important thing is that you have a website. You can give yourself a pat on the back.
Enjoy your website!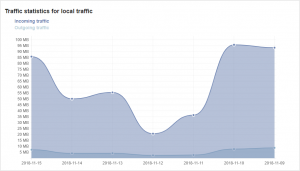 Because Your Website Matters
Reliable Technical Support.
Our support team has advanced technical knowledge.
We are here for you 24/7 and ready to help you even
with the most advanced issues, you might have.
Communication Oriented
High Technical
Expertise
Top Rated
Available 24/7
As Featured by:

Questions You Might Have
Free Web Hosting F.A.Q.

Where Ideas Turn Into Websites