As you might know, WordPress is a free open-source content management system (CMS). It is also one of the most used CMS both by novice and experienced web developers. When you first start using WordPress, you will most likely experiment a lot with various plugins and themes. However, at some point, your WordPress might stop working correctly. In that case, it is common to reinstall WordPress. In this tutorial, we will show you how to reinstall your WordPress and how to keep your content, themes and plugins.
How to Reinstall your WordPress website?
The process of reinstalling WordPress is a 3-step process:
Delete your WordPress files
Delete your WordPress database
Install WordPress again
Deleting your WordPress files
In order to delete your WordPress files, you will first have to locate them. Usually, they are located in your domain directory with the name of your domain. However, if you have specified a different directory for your domain you will have to check that as well. To do that go to the Domain Manager > Select your domain > Pointers and check the Hosting path which is set. 
Now that you know where your files are located, it is time to enter your website directory using the File Manager. Once you have opened your domain directory select all files and remove them.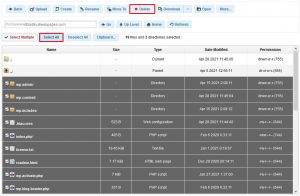 Note: Sometimes your WordPress might contain files/directories with read-only permissions which will prevent you from deleting them. In this case, simply select all files and set the permissions recursively to 755 and proceed with the deletion.
Deleting your WordPress database
Deleting your WordPress database is done through the Database Manager. If you are not sure what the name of your database is you can easily find it in your WordPress directory inside the wp-config.php file. Once you have opened the config file search for your database name and return to the Database Manager. From there click on your WordPress database and choose Delete.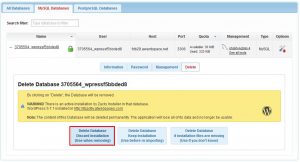 Installing WordPress
Installing WordPress on your AwardSpace account is an easy and fast process. All you need to do is simply go to the Zacky App Installer and use it to install WordPress. We have a detailed guide on how to do that here.
Congratulations, you have successfully reinstalled your WordPress and you can start from your site from scratch.
How to reinstall WordPress and keep my content?
WordPress, as most CMS which you might encounter, is storing its content inside its database. Therefore you will first have to backup your WordPress database, plugins and themes. You can do this by following the steps bellow:
Login to the Hosting Control Panel
Access the Database Manager
Click on your database
Open the Management tab
From there choose the Download in SQL Format button
Save your database on your device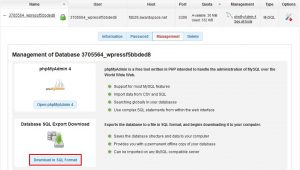 If you would like to save your plugins and themes then follow these steps:
Open your WordPress directory
Enter the wp-content directory
Download the plugins and themes directory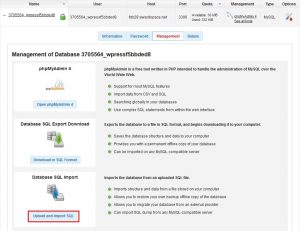 Now that you have backed up your database, plugins and themes, you are read to proceed with the reinstall process by following the steps above.
After WordPress is reinstalled, you need to re-upload your plugins and themes and import your database. Proceed with uploading your files to your WordPress directory via FTP. To import your database head to the Database Manager, open the Management tab for your database and choose Upload and Import SQL.
That's all, you have successfully reinstalled your WordPress and restored your content.