Nowadays, it is almost impossible to run a successful website without securing it with SSL. When you buy an SSL certificate, you will gain several benefits, chief among them being the ability to enable HTTPS. You will also be increasing your visitors' trust in your site and you may even start ranking better in search results!
To top it all off, these days it is easier to get an SSL than ever before. And if you are on a tight budget or you are just starting your website, you can save money by taking advantage of a completely free SSL certificate.
In this article, we will briefly list the most important reasons you should consider buying an SSL. We will then proceed to show you how to get an SSL certificate on our hosting platform. You can read the entire article if you wish, or you can jump to the section that interests you:
Why Do I Need to Get an SSL Certificate?
Getting an SSL certificate will have a positive effect on your website thanks to several important SSL features. These are:
data encryption which ensures that all information between your site and your visitors is transmitted in a secure manner.
better search ranking in major search engines like Google.
accepting online payments on your site using credit and debit cards as well as other payment methods.
increased user trust makes your visitors more comfortable when it comes to sharing personal or sensitive information.
proof of legitimacy showing that your website is authentic and not a scam or a phishing attempt.
enhanced brand recognition that sets your site apart from competitors with less secure websites.
What Are the Differences Between Paid and Free SSL Certificates?
Earlier in the article, we briefly mentioned that is possible to get an SSL certificate absolutely free of charge. With that in mind, you may be wondering why you should pay for an SSL certificate when you can get one without a price tag.
Generally speaking, there are four major differences between paid and free SSL certificates:
certificate duration – most free SSL certificates expire in 1-3 months while paid SSL certificates usually last 1-2 years.
level of support – due to the sheer number of users employing free SSL certificates, most free SSL providers offer minimal technical support or sometimes no support at all. SSL certificates that cost money, on the other hand, always have dedicated support teams that are ready to assist you in case you run into any issues.
level of authentication – free SSL certificates offer only the most basic domain-level authentication. This means that a free SSL will only vouch that you are the owner of the domain name in question. In contrast, some paid SSLs can perform extensive validations of the company or organization that has requested the SSL.
warranty – as you might imagine, free SSL certificates come as-is with no implied warranties. If something breaks on the issuer's side and your free SSL becomes invalid, there will be no recourse available to you. With a paid SSL, on the other hand, you will be eligible for monetary compensation. The compensation amount will vary depending on the severity of the issue and the particular SSL that you have purchased.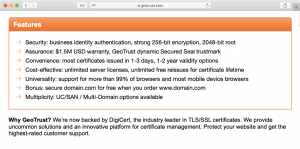 One of our core beliefs is that SSL makes the web a safer place. As such, we have taken steps to mitigate some of the drawbacks of the free SSL certificate option.
When you host your domain on AwardSpace and get a free SSL certificate from us, we will handle all certificate renewals for you. What is more, our 24/7 Technical Support Team is ready to assist you in case you have any issues with your SSL. All that you need to do is to make sure that you are using one of our paid hosting plans to take advantage of our free SSL features.
Should I Get a Paid or a Free SSL Certificate?
As a general rule, we recommend getting a free SSL certificate if you:
run a small blog or a personal site.
have a portfolio or a CV online.
are still in the process of building and testing your website.
Conversely, a paid SSL certificate will be better suited if you:
run an online store.
perform any financial transactions on your site.
collect sensitive information such as bank or contact details.
own or manage the online presence of a large company.
In the sections below, we will provide instructions on how to get a paid or a free SSL certificate, but before doing so, we will briefly touch on the requirements that must be met to activate an SSL certificate.
What Are the Requirements to Use an SSL Certificate?
Using an SSL is a premium feature. As such, you need to be using one of our paid hosting plans or Semi-Dedicated servers. If you happen to be using our free website hosting service, you should consider upgrading as our free hosting does not support SSL.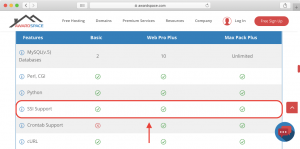 Additionally, each SSL certificate requires the use of a Private IP address. Therefore, purchasing a Private IP is necessary for the activation and continued operation of the SSL certificate. For additional information, read our article on what happens if the IP for SSL expires.
Now that you have an idea of the requirements that must be met to use an SSL, you can proceed to learn how to get an SSL certificate for your website.
How Can I Get an SSL Certificate?
Depending on your preference and needs, there are three ways you can obtain an SSL – you can get a free SSL certificate from AwardSpace, purchase a premium SSL from AwardSpace, and upload a custom certificate that you have acquired through a third party. We will examine each approach in greater detail below.
How Can I Get a Free SSL Certificate?
To get a free SSL certificate through AwardSpace, follow the steps below: