Web Hosting Knowledge Base
How to install an SSL certificate?
In this tutorial, we are going to describe the process of registering and installing an SSL certificate on a Shared server.
What is an SSL certificate?
SSL stands for Secure Socket Layer. SSL is an encryption (HTTPS) protocol that secures and encrypts data transmitted between a server and a web browser. SSL is most commonly used for protecting online web shops and registration/sign-up forms.
Each SSL certificate consists of three parts:
the root certificate;
the CA (Intermediate) certificate;
a private key.
How to obtain an SSL certificate?
There are currently two ways to get an SSL certificate for your website:
By purchasing a certificate directly from Awardspace.
There are 6 different types of certificates you can choose from RapidSSL, GeoTrust QuickSSL, GeoTrust QuickSSL Premium, GeoTrust True BusinessID, GeoTrust TrueBizID with EV and GeoTrust TrueBizID Wildcard.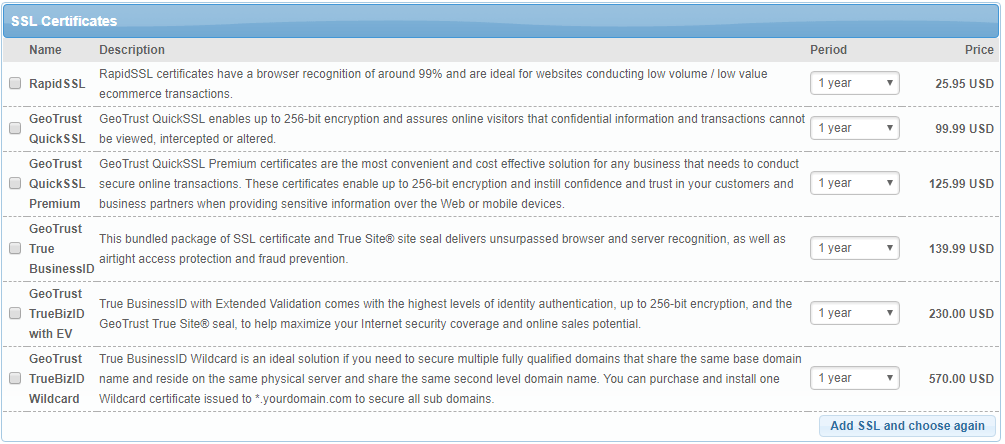 By obtaining a certificate from a third-party SSL company, such as Comodo, GeoTrust or Digicert.
Note: It is important to mention that each certificate requires a private (dedicated) IP address. You can order a private IP address for your website by going to your Control Panel's SSL Certificates page: Buy Services > Services > SSL Certificates
How to install an SSL certificate?
SSL installations can be performed using the SSL Manager.
Note: If you purchase a certificate and private IP address from Awardspace, the entire installation will be performed by our team.
Here are the steps to install a new SSL certificate on your web server:


Log into your Awardspace account. (Do not have an account yet? You can get one from our shared hosting page.)
Once you're inside your Control Panel, navigate to your SSL Certificates page.
Click on the hostname you would like to upload a certificate for and open the Upload Your Certificate tab.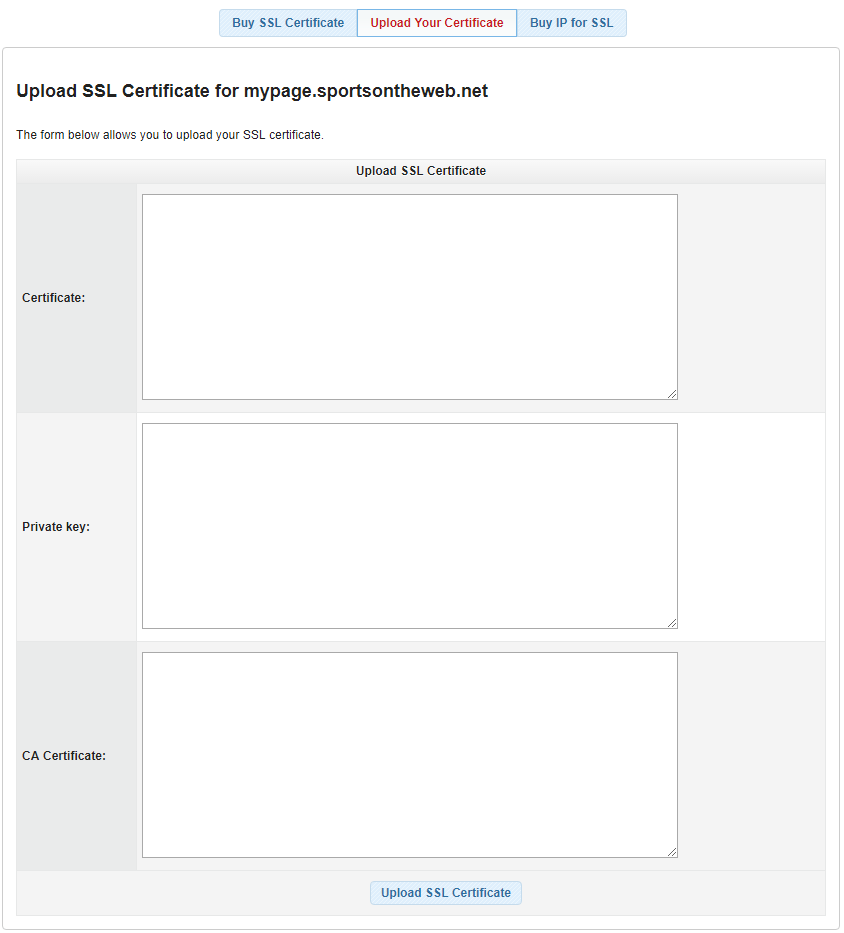 Obtain the SSL.crt, Private Key.crt and CA.crt files from your SSL issuer and open each one of them in a text editor.
Copy and paste the codes (including the BEGIN and END tags) into the boxes above.
Press Upload SSL Certificate
That's it! Once your upload is completed, you will receive a confirmation message screen.
If you have trouble uploading or configuring a certificate, please submit a support ticket from your Awardspace account and our dedicated Awardspace Support Team will gladly assist you.
It's Time to Share Your Story.
Get Free Web Hosting. Start a website, and introduce yourself to the world.