The message 500 Internal Server Error is a popular HTTP status code that is sent by a server in response to a client's request. If your web browser shows you a webpage containing this error, it means that the server powering the website you are visiting has experienced an unexpected error and cannot deliver the requested content.
The 500 Internal Server Error is a very general error message that does not point to one specific root cause. Instead, it is used as a catch-all error response whenever a more appropriate HTTP status code is not available.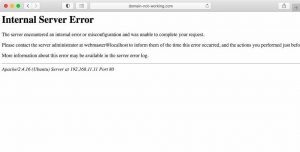 Different websites are powered by different webservers and as such, each server application may present and word the 500 error a bit differently. Below, you will see some of the more popular representations:
500 Internal Server Error
Internal Server Error
HTTP 500 Internal Error
500 Error
HTTP Error 500
HTTP 500 - Internal Server Error
Temporary Error (500)
500. That's an error.
It should be noted that while the error description may vary, the 500 HTTP status code will always remain the same as long as it is shown on the page. Here at AwardSpace, our free website hosting plan, premium shared hosting packages, and semi-dedicated servers all use the Apache webserver application to power your website. As such, should you experience error 500, you will see the text Internal Server Error in your web browser as was shown in the screenshot earlier in this article. Our Virtual Private Server hosting also comes with Apache preinstalled, however, if you decide to purchase a VPS instance you will be able to install a different web server application if you want.
We should also note that an Internal Server Error needn't necessarily take down your whole website. Often times, the front-end of your website may experience the 500 error while the back-end may remain accessible. Another possibility is that a specific action or a sequence of events may trigger the error.
Start Your Own Website For Free!
To learn what causes the 500 Internal Server Error or how to fix the problem, continue reading or jump to the section that interests you:
What Causes the 500 Internal Server Error?
As we have noted earlier in the article, the 500 Internal Server Error is a server-side error message. In other words, the error is almost never caused by the client that is connecting to the server. As such, the 500 error would likely persist even if you try visiting the website on a different device equipped with a different web browser and even a different operating system.

The error itself can be generated by many different issues ranging from incorrect file permissions, faulty .htaccess configurations, scripts that are not correctly programmed, faulty plugins and themes, and others. We will explore the more popular causes of HTTP error 500 below.
Permissions
Having incorrect file and directory permissions is one of the more common problems that can lead to an internal server error. When the incorrect permission is set, the website might not be able to retrieve or execute all necessary files which, in turn, can cause unexpected website behavior.
PHP Memory Limit
Error 500 is likely to occur if the website you are visiting is hosted on a low-memory hosting solution such as a shared hosting account. If the account runs out of memory for whatever reason, the hosted sites there may start showing strange errors, including the 500 Internal Server Error.
PHP Timeout
Every website has a finite amount of system resources available to it. These resources must never be exceeded, otherwise, all processes on the hosting account may experience a catastrophic failure. To guard against this possibility, PHP has a timeout function that limits the amount of time a PHP script can run. Once the time limit is reached, the script process is killed, freeing up system resources in the process.
Get a Server with a Lot of System Resources!
However, this premature killing of the PHP script can have negative side effects on your site visitors like a 500 error. The good news here is that the error is generally triggered only when the visitor tries to perform a certain action or follow a specific set of steps that would necessitate the execution of the problematic PHP script. As long as the script is not triggered, the rest of the website should function as normal.
Bad Htaccess
Another very common issue that results in an Internal Server Error is a poorly created .htaccess file. The .htaccess file is used to give instructions to the server, so an error can occur even if only one character is misspelled or missing.
Free Hosting with Full .HTACCESS Support!
How Can I Fix the 500 Internal Server Error?
If you are just browsing the web and stumble upon a site that returns a 500 error page, there isn't much you can do on your end to fix the issue as internal server errors are usually triggered by a problem with the server itself. That said, you can still try some basic troubleshooting steps. They do not have a high probability of fixing the issue, but they are quick and easy to try:
If you have another device at your disposal, try opening the problematic webpage there and check if you still see the 500 Internal Server Error. And if you have an alternative way of accessing the Internet, such as a phone's cellular connection, you should try using it for the test instead of your regular Wi-Fi connection.
If you do not have access to a secondary device, you can try using a web proxy service. A web proxy allows you to visit a website using a remote computer in another location. If you do not have a favorite web proxy service, you can try using ProxySite as it is free and easy to use. Make sure that you do not disclose any sensitive information while using the proxy website as the proxy provider will have access to everything that you type.
If you would rather not use a proxy service, then you can clear your browser cache and cookies and try loading the problematic page one more time. Most web browsers would allow you to clear your cache and cookies using the keyboard shortcut Control (Command for Mac users) + Shift + Delete. Alternatively, you will find the option to clear your browsing data in the Advanced/Developer/Privacy section in your browser settings.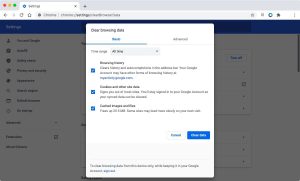 If the above steps do not resolve the issue, you should consider contacting the website owner on social media and making them aware of the error that you are experiencing.
But what about if your own website