HTTP status codes, also known as HTTP response codes, are small pieces of information that a client, such as a web browser, receives from a webserver. The purpose of the HTTP status codes is to give the client a rough idea of how the server has reacted to their request.
If everything has gone well, then the HTTP response code will simply acknowledge the client's request and confirm that it has been processed. Conversely, if an error has occurred, the HTTP status codes can be useful in identifying the root cause of the issue.
The HTTP status codes are incorporated into the request-response cycle that is part of most client-server interactions. In fact, every time your web browser loads a URL, the server on the other end will include an HTTP status code in its response.

Every HTTP response sent by the server consists of a header and, optionally, a body. You will find the HTTP status code inside of the response's header.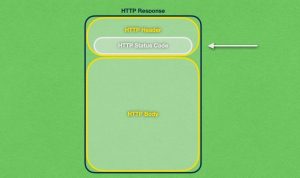 Unlike regular HTML and multimedia elements like images and video, HTTP codes are pieces of information that are sent by the server but are rarely displayed for the user. So, you can think of the HTTPS response codes as metadata. Just about the only time your web browser might display the HTTP status code is when there is an issue that you need to troubleshoot.
Being a part of the HTTP protocol, the list of HTTP status codes is maintained by the Internet Assigned Numbers Authority (IANA). That said, technology companies like CloudFlare, Microsoft, Twitter, and others have been known to extend the HTTP response codes specification by adding new codes that will only be used on their respective platforms.
To learn what HTTP status codes there are, what every code means, how the codes are organized, and how you can inspect them, continue reading or jump to the section that interests you.
Start Your Own Website For Free!
What Are HTTP Status Codes Used For?
The purpose of the HTTP status codes is to give the web browser an idea of how the server has handled its request. Different codes mean different things and there are even codes that can instruct the web browser to take extra actions without the involvement of the user. We will cover all HTTP response codes and what they do a bit later in this article.
Overall, if you are a website owner or a developer, you should learn what the different HTTP response codes mean as this will help you tremendously in troubleshooting various issues as they come up. If you