As pioneers in offering truly free website hosting services, AwardSpace abides by the ease of access and ease of use. Thus, everybody will be able to create their first website and be part of the World Wide Web.
In order to achieve that, we figured, a tutorial on how to signup for your first free hosting account might come in handy.
Here is a two steps tutorial on how to signup for a free hosting service today.
Method 1: Via The Free Web Hosting Registration Page
If you were to go to AwardSpace's Homepage, or even from the current tutorial, you'll have to navigate to the Free Web Hosting Registration Page.
Step 1: Go to the Free Web Hosting Registration page
Navigating to that page is easy. You can either click the link at the end of the previous sentence, the Get Started Button on the Home Page, or the Free Signup button located in the main menu, visible on every page of our website.
Step 2: Create Your Free Hosting Registration
Once you are at the free hosting registration page, there is nothing left for you to do but to create your registration.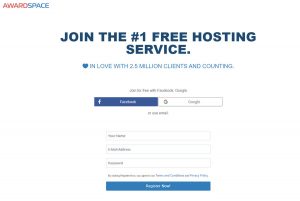 To do so, you can either create your account with one click, by using your Facebook or Google account. By clicking on each of these buttons a prompt will show up. You need to allow the connection between AwardSpace and the service you've chosen. After that, give a few minutes for the server to process your request. Your account will be ready in a few seconds, and you will be redirected to your hosting control panel.
On the other hand, you can create your registration by using the classic method filling the three fields below. Namely, adding your Names, E-mail Address and the Password you want to use. That's it.
Once again, you'll be redirected to your newly created free web hosting account.
Method 2: Via the Free Web Hosting page
You also have the option to register via our free web hosting page.
To do so, the first thing you need to do is to navigate to the page in question.
Once here, the procedure is more or less the same.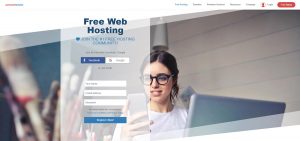 Choose your prefered method of signing up and go with it. You'll soon be redirected to your new web hosting account.
Next Steps:
Now that you've signed up for your free hosting account:
Already finished these steps?
---
Keep reading