Web Hosting Knowledge Base
WHOIS Protection

4

min read
Can People See my Personal Information When Registering a Domain Name?
When you register a domain name, your contact details are recorded in the so-called WHOIS database – that maintains the contact info for all active domains. The WHOIS information for domains is publicly available as per ICANN regulations.
Am I Able to Hide my Contact Details?
You can hide your personal contact information to reduce the chances of identity theft and data mining by purchasing a Domain Privacy Protection service for your domain. The Privacy Protection service is only available for domains that are registered with/transferred to us.
How Would I Go About Purchasing Whois Protection?
You can follow these steps to order Whois Protection for your domain:
Navigate to the Domain Manager section.
Click on the domain name that you wish to protect.
Open the Security tab.

On the next page, you will be presented with various options. Click on the Buy Whois Protection button to continue.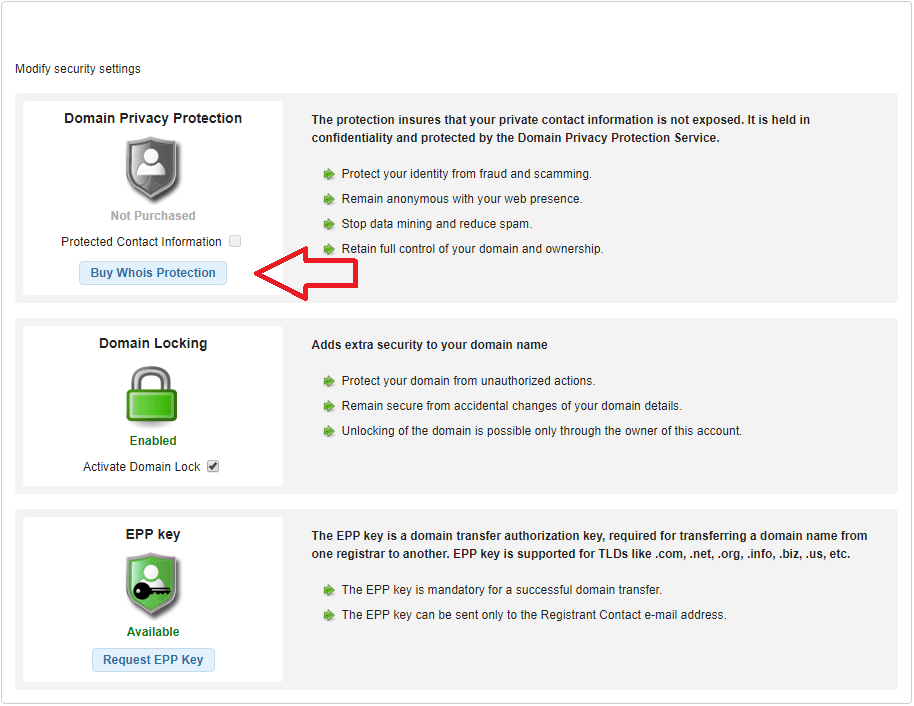 From the Period drop-down list, select the number of years for which you wish to purchase Privacy Protection.

Press Continue.
Proceed to the checkout page.
Note: Whois Protection can be purchased for up to 10 years. The cost is $10 per year per domain name.
Is Whois Protection Applicable to All Domain Names?
Whois Protection is applicable to the following domain extensions – .com, .net, .org, .info, .biz, .tv, .me, .cc and .cm.
It cannot be used with .us, .uk, .org.uk, .co.uk, .eu, .de, .be, .ca, .asia, .jp, or .in domain names.
It's Time to Share Your Story.
Get Free Web Hosting. Start a website, and introduce yourself to the world.