What you need to know:

A hosting service offers computers that are always turned on and are perpetually connected to power and the Internet. You can rent such a computer and upload your website's files onto it, so they are accessible online. Lastly, you can assign a domain name to your server, so your website can be easily accessed by visitors.
Even if you are just starting to work on your very first website, you have likely already come across these three terms: hosting, website, and domain. And since all three terms appear to have roughly the same meaning, you may be thinking that they are interchangeable.
While it is true that the terms are often used in the same context, they represent three distinct technologies that complement one another in order to provide you with a full-featured service that is capable of running your website. In this article, we will examine what the difference is between a website, hosting, and a domain name, and we will see how they all fit together like the pieces of a puzzle.
Table of Contents:
What Is Hosting?
Hosting, also known as Internet hosting, is a service offered by hosting providers that allows you to rent physical computers that are always powered on and always connected to the Internet. These computers, often called servers, are capable of running any Internet-based service such as your email account, your favorite multi-player game, and of course, your website. When a hosting company wants to specify that they are offering servers for the purpose of hosting a website, they refer to the service as a web hosting service.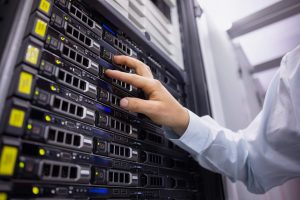 Normally, a single server has enough processing power and system memory to run multiple websites at the same time. So, many web hosting companies like AwardSpace have opted to offer shared web hosting plans where you rent out a small portion of the server's processing and storage capacity. This practice has enabled the creation of hosting plans that are affordable and yet allow your website to run without issues.
Analogy

You can think of getting a web hosting plan like renting an empty apartment. You are only paying for the available space and you are later expected to furnish it to your liking by uploading your website.
Here at AwardSpace, we offer very affordable premium shared hosting plans and even a free shared hosting package. In addition, we also offer semi-dedicated hosting plans and several VPS packages. The semi-dedicated and VPS packages also work on a shared principle but can offer you increased performance and flexibility because very few customers share a single server.
What Is a Website?
A website is comprised of one or more webpages. Each webpage can display text, audio, video, images, and other types of content. In addition, webpages also contain programming technologies like PHP, HTML, CSS, and JavaScript which are used to bind the various types of content together. All of these elements are stored as regular files that are not too different from a PDF document or a presentation file.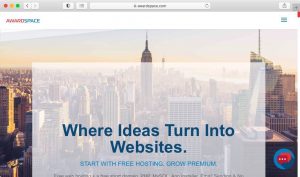 At this point, you may be thinking that creating a website is a difficult task that takes a lot of time and effort. While this was true in the past, nowadays there are sophisticated content management systems and website builders that you can use to create a great-looking website in no time with no programming involved.
Here at AwardSpace, we have developed the Zacky Installer which you can use to quickly set up popular content management systems like WordPress, Joomla, Drupal, and others. In addition, we also have the Zacky Website Builder that is capable of creating a professional-looking website with just a few clicks.
Analogy

If getting a hosting plan is like getting an empty apartment, then you can think of your website as the apartment's furniture. You can choose the type of furniture that best suits your needs and select its color, style, etc. Once you are happy with your selection, you can move the furniture into the empty apartment and arrange it to your liking. The moving and arrangement of furniture are analogous to uploading your website to the hosting provider's server and fine-tuning it.
Once you have created your website, you need to upload it to your web hosting account so that other people can access it. By default, the way to access the website will be convoluted and difficult, often involving the IP address of the server. Thankfully, you can make the process much easier by assigning a domain name to the server.
What Is a Domain?
A domain name is not strictly speaking necessary if you want to have a website online, however it makes all the difference as far as your visitors are concerned. Without a domain name, it would be next to impossible for someone to reach your website. That's because websites that lack a domain name have long addresses that are difficult to remember. You can see an example of such a website address below:
http://192.168.100.255/public_html/my-awesome-website/

When you add a domain name, however, that long website address can be condensed into something like this:
http://my-awesome-website.com/

The shorter version of the website address is much easier to remember thanks to the use of a domain name. As such, visitors will have no problem remembering and entering this URL in their browser address bar.
Analogy

If your hosting plan is your apartment and the website is your furniture, then you can think of the domain name as your apartment's street address. Imagine how difficult it would be to describe where your apartment is located if you cannot use your street name, street number, floor number, and apartment number when you ask your friends to come over.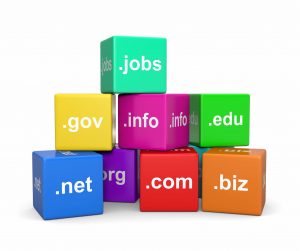 Here at AwardSpace, we allow you to purchase a premium domain name so your website will stand out from the crowd. What is more, some of our premium hosting plans allow you to get one or two domain names for free if you sign up for a year.
Conclusion
So, to summarize:
You get a web hosting plan which will serve as the basis for your online presence.
Then, you upload your website to your web hosting plan.
Lastly, you add a domain name to your web hosting account, so that your website can be accessed more easily.
Now that we have examined how the three terms interconnect and complement one another, you likely see why you need to combine a website, hosting, and a domain name in order to have a complete online presence.
---
Keep reading