Previously known as Musical.ly, TikTok has became one of the most successful mobile apps in the world. As of today, the short video sharing platform has over 500 million active users worldwide. What is more, it was one of the most downloaded apps in 2019 on both iOS and Android.
TikTok is owned by a Chinese company, called ByteDance. It is the result of a collaboration between two existing apps: musical.ly and douyin. This is the only internationally-successful Chinese social network.

Young people crave micro-entertainment like making videos and challenges online. This is one of the main reasons why the platform is so popular. The videos are fun and short.
What is TikTok and How Does it Work?
Tik Tok is a social media platform for creating, sharing, and discovering short music videos, something like karaoke for the digital age. The app is used mostly by relatively young people to express themselves in a video through singing, dancing, comedy, and lip-syncing.

The videos can be up to 15 seconds long, but the users can also connect multiple clips for up to 60 seconds of total recording. Users can also upload longer videos that were recorded outside of the app. TikTok has video editing and customization tools as well. Users have access to a library of songs, effects, filters, and sound bites to add to their videos. They can also "duet" with someone by replying to their video and they can add their sounds and lip-sync to another user's video.
What Are Young People Doing on TikTok?
The platform has a reputation for being popular with teens between the age of 13 to 17 years old.

Most parents aren't on the app, giving teens much more freedom to express themselves. They get inspired by famous people or friends to do challenges or dance and sing and record it on a video.

Some young people turn to social media and especially TikTok to maintain their mood light and cheerful.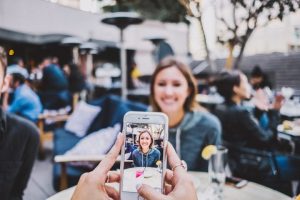 Why TikTok is so popular?
The platform lets users be creative and encourages them to share their passion with the world.

Just like in the others apps people can follow other accounts and create a feed of new content from the creators they enjoy the most. There is also a "For You" section that shows a random assortment of videos from others. The platform offers an endless thread of new clips to watch and thus fuels its highly addictive nature.
TikTok is the newest platform for turning the average user into viral sensations. Currently one of the most popular people on TikTok is Loren Gray, who has over 38 million followers.


Conclusion
TikTok is a great app not only for young people but for everyone who enjoys to express their talent and have fun. The platform is very entertaining and it is giving the opportunity to people to be creative and explore their talents.


If you haven't used it yet, you might wanna give TikTok a shot and create your first video.