Along with the site loading speed, and the actual products that you are selling, the design of your e-commerce store is crucial to your success. And as WooCommerce is part of WordPress, it's not hard to imagine that when creating an online store with the WooCommerce, we'll once more have to install a theme.
Choosing the right free WooCommerce theme could be a hard task. A lot of themes promise things that they are not able to deliver. At least not, without for the user to be a programmer, which most of us are not.
That's why, we figured a list of the six best free WooCommerce themes would be valuable, as the second article of this WooCommerce tutorial.
The templates that we've hand-picked and chosen to list in our article are WooCommerce themes that you can download at no cost. Furthermore, they are not solely compatible with WooCommerce. These themes are created with an online store in mind. That is why we call them "best".
6 Best Free WooCommerce Themes
As mentioned, the following e-commerce templates will be devoted to WooCommerce, not just compatible with it.
Without further ado, here are our six picks.
Storefront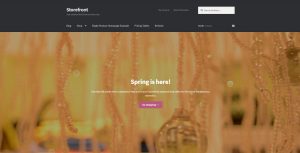 Storefront is the official WooCommerce theme. It is free, of course, and has a "bulletproof WooCommerce integration". Why? Well, because this WooCommerce theme is maintained, and built by the core developers of the WordPress e-commerce extension.
Storefront is a simple, and beautiful theme.
If the fact that Storefront is the official WooCommerce theme is not convincing enough, you might be glad to hear that there are a number of officially maintained child themes, that you can check out here. These templates are paid, but they'll save you the time and efforts needed to customize your WooCommerce shop the way you would like to.
Furthermore, the Stormfront has a number of in-house developed and maintained extensions, a decent number of which are free. As is the theme itself. Check out the storefront extensions here.
AccessPress Store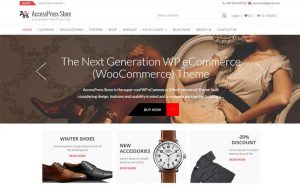 Generally, AccessPress are offering beautiful, and low-cost WordPress themes. And as most of them, AcessPress Store is a free version of a paid product.
Nevertheless, AccessPress Store would be a good start for your WooCommerce shop. The template has a lot of valuable features that will make your life easier while building your store.
You'll be able to utilize the value of a product slider, an advanced wishlist, a call to actions, to name a few.
And, of course, the home page is fully customizable.
AccessPress Store is one of the best free WooCommerce themes because it has a decent design, and is highly customizable. Thus, if there is something you don't like, you could easily change it.
MaxStore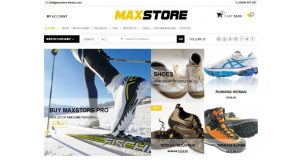 The MaxStore WooCommerce theme is suitable for anything. You can sell watches, dresses or sports goods. In fact, I can see how perfectly car parts and accessories would fit with this theme. The theme is created solely for WooCoomerce thus, the way your products will be shown and the checkout form is better than most free eCommerce themes.
MaxStore is responsive, and you won't lose your customers over mobile inaccessibility. Furthermore, you'll once again be able to customize the theme to your liking.
With a nice three column manner of showing the products, MaxStore will at least maximize the professional look of your eCommerce shop.
Online Store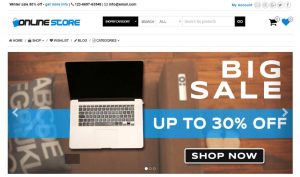 While we haven't forgotten about MaxStore, let's check out the Online Store WooCommerce theme, which is a child theme of MaxStore.
It is a free template, that is absolutely suitable for selling sports goods, technology, clothes, jewelry, furniture, books, and probably whatever you decide to use it for.
Customizable to a high degree, Online store would lead you to a great start, if you are looking for some low-cost business start. Of course, you'll be able to customize the colors, background image, and the homepage slider, to name a few.
Shop Isle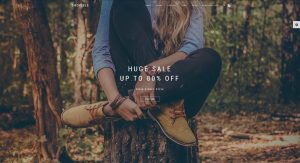 Aaah! The Shop Isle! Can you see yourself on an island, and everywhere you lay your eye, you can see only one thing. Beauty. You would buy everything, just to have the opportunity to stay a little longer on that island.
And why?
Visual sells.
The Shop Isle theme relies exactly on that. A beautiful design which is a delight to the eye.
If you are about to sell jewelry, clothes, or any other design work, that needs a beautiful presentation, Shop Isle is the theme to go to.
TheShop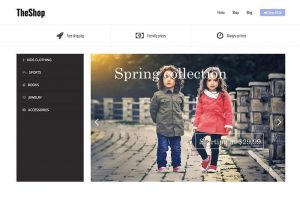 TheShop is created for one of those small eCommerce stores that you are glad you've stumbled upon. Usually, these stores are selling handmade products, that are as much odd as they are beautiful.
And even though each of these shops is small in size and number of sells, they still don't fail to excite us with their design. More often than not, these small stores are created with a free theme, using the WooCommerce platform. And yet, one can easily recognize the amount of work that went in the setting up the store.
TheShop is a theme that is able to present exactly that feeling into your customers. Of course, you can use it to sell whatever you are selling but the design of it will surely create the feeling in your customers that you are one of those shops. The small, the independent, the handmade, the attention-to-the-customer type of shop.