What you need to know:

WordPress 5.8 "Tatum" was released to the public on July 20, 2021. Its standout features include a new block-based widget editor, native support for WebP images, and the inclusion of a template editor. In addition, the update introduces the new theme.json file and drops support for Internet Explorer 11.
On July 20, 2021, the developers behind WordPress released WordPress v5.8 "Tatum". Named after the legendary Jazz pianist Art Tatum, WordPress 5.8 introduces a plethora of new features, including some that are a part of a broader project known as Full Site Editing.
Tip:

Full Site Editing (FSE) is a long-term project at WordPress that aims to make it possible to edit every aspect of a WordPress website using the intuitive block editor known as Gutenberg.
In this article, we'll highlight the most noteworthy changes that come with WordPress 5.8 "Tatum". In addition, we'll discuss whether this is a worthwhile upgrade.
Table of Contents
What's New in WordPress 5.8 "Tatum"?
In addition to the usual bug fixes and stability improvements, WordPress 5.8 "Tatum" brings several noteworthy features such as:
In the next few sections, we'll describe these noteworthy features in a bit more detail, so you'll know what to expect once you upgrade your WordPress site.
Tip:

Are you itching to try the new WordPress 5.8 "Tatum" but you don't have a website yet? In that case, you are welcome to sign up for our free hosting plan that is fully compatible with WordPress! You may also consider one of our professional WordPress hosting options for added functionality and performance.
The New Template Editor in WordPress 5.8 "Tatum"
The new Template Editor brings WordPress 5.8 "Tatum" one step closer to Full Site Editing. This new editor can be accessed by opting to edit your current template or create a new one while you are building your page or post.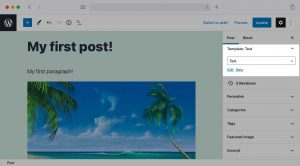 Warning:

The template functionality will appear in the Gutenberg sidebar only if your theme supports post/page templates.
The look and feel of the Template Editor will be instantly familiar to most WordPress users as it is entirely based on the WordPress Block Editor interface. In fact, the most standout feature is that the Template Editor has access to a bunch of new blocks that are specific to Full Site Editing. Some of the more noteworthy additions include:
Site Logo
Site Title
Query Loop
Post Title
Post Content
Post Excerpt
Post Featured Image
Log In/Out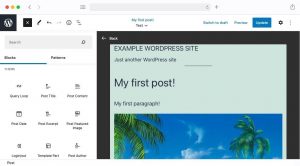 Block Editor Improvements in WordPress 5.8 "Tatum"
While the Block Editor didn't see any groundbreaking features in WordPress 5.8 "Tatum", it did gain a few quality-of-life improvements. Below, we will list the more noteworthy ones.
First on our list is the addition of 14 new blocks to Gutenberg. Most of these blocks are intended for Full Site Editing, such as Site Title, Site Logo, Site Tagline, and Page Lists.
One other block that deserves a special mention is the Query Loop block. This is an advanced block that allows you to cycle through your WordPress database and display information about posts that meet specific criteria.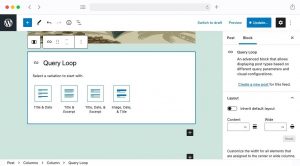 Speaking of blocks, the WordPress Block Editor is now able to suggest block patterns that you can instantly add to your page or post. These suggestions will become better over time as the number of blocks and block patterns grows.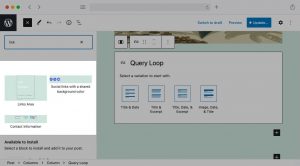 When you start combining multiple blocks and block patterns, it can get increasingly difficult to keep track of your page structure. That is why WordPress 5.8 "Tatum" ships with improved block navigation. Now, the List View will give you a better sense of the blocks and block patterns that comprise your page or post. Also, clicking on an element in the list will bring it into focus in the main content area.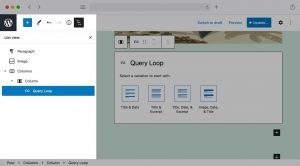 Lastly, we would be remiss if we did not mention the new Duotone Filters. These are special filters that you can place on your images. Once a filter is applied, the highlights and shadows of the image would be set to colors of your choosing.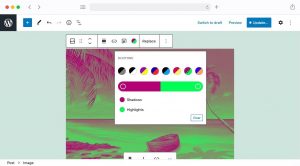 WordPress 5.8 "Tatum" Officially Supports WebP
Another new feature that is a bigger deal than it may seem at first glance is the official support for WebP images. Developed by Google, WebP images offer better compression than JPEG and PNG while also preserving image quality.
Tip:

Not all image editing applications support WebP. If you find that your preferred image editor lacks WebP support, then you can use Google's WebP conversion utility.
If you start using WebP images, you will see an average size reduction between 25% and 34%. This, in turn, will help your pages load faster which will help with user retention and SEO.
Tip:

Keep in mind that this new WebP support will not affect images that you have already uploaded. If you wish to convert your existing images to WebP, you will need to use a plugin or do so manually.
WordPress 5.8 "Tatum" Introduces Block-Based Widgets
Another noteworthy feature in WordPress 5.8 "Tatum" is the new widget system. Now, you can use the blocks that you know and love to customize the various widget areas on your site.
That said, the classic widgets are not going away any time soon. They can now be found in a new Legacy Widget block. In fact, you can add widgets side-by-side and they will work flawlessly regardless of whether they are modern, legacy, or a combination of both.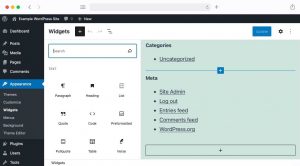 A New theme.json File Is Added to WordPress 5.8 "Tatum"
The addition of the new theme.json file in WordPress 5.8 "Tatum" will not get many regular WordPress users excited, however, it is a big deal for developers. Thanks to this new file, theme developers can now define styles and add presets without writing lengthy CSS code.
WordPress 5.8 "Tatum" Drops Support for Internet Explorer 11
The last noteworthy change that we will mention is that Internet Explorer 11 (IE11) is no longer supported in WordPress 5.8 "Tatum". The lack of support means that if any new bugs are discovered, they will not be fixed in future versions of WordPress. If you are still using IE11, then we highly recommend that you upgrade to Microsoft Edge (the successor to Internet Explorer) or to one of the other modern web browsers that are available.
Should I Update My WordPress Site to WordPress 5.8 Tatum?
Yes. WordPress 5.8 "Tatum" represents a worthwhile update for all WordPress users. Aside from the many new user-facing features, this new version also packs important security and stability improvements. So, you should go ahead and update WordPress as soon as possible. In fact, it may have already updated on its own if you have automatic updates turned on.
Tip:

Do not forget to back up your WordPress site before performing the update! While no crashes are expected, it is always better to be safe than sorry!
Conclusion
While not a major breakthrough, WordPress 5.8 "Tatum" takes yet another step towards Full Site Editing thanks to the revamped Widgets section and the inclusion of the Template Editor. People who value performance and speed will also appreciate the native WebP support. And developers can save themselves from having to write hundreds of lines of CSS code by leveraging the new theme.json file.