Most companies look at the good design as an additional expense rather than a great opportunity to invest. A company's business plan will normally include the costs of hiring staff, internal cost, and products and services, etc. Yet, another expense usually is overlooked. Most often than not, it is not even planned. Rarely there is an entrepreneur who understands how important the design of your website and, of course, your product can be.
If we take the world's most profitable businesses as an example, it is obvious how much effort they've placed into good design. They know that when something looks good, people will notice. If a brand has a visually attractive, and easy to use website (or a product), that helps their targeted audience better understand the website (product), which, in turn, increases the ROI.
The bad design, on other hand, is something that is even more noticeable as it is something that catches your eye. Jared Spool, the American writer and researcher once said: "Good design, when it's done well becomes invisible. It's only when it's done poorly that we notice it."
Bearing that in mind the goal of the design has to be effective and attractive to the customers, so they'll stay during the whole journey until they purchase the product or service that you provide.
Strive for Perfection
Now that you know the effect of both visually appealing and the neglected design on your ROI, you probably want to know what it is that makes the difference between them.
In a word, there is no good or bad design. What makes them either good or bad is whether the design accomplishes the task of funneling your users to the "Thank you page".
When you are completely confident in the value of your product or service, you might as well want to display it in the best possible way. Bear in mind that it is not about your personal design preferences but rather those of your target audience.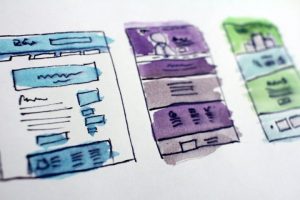 Once again, the goal of your website's design is ultimately to sell your product or service.
Nowadays, every online business has the opportunity of keeping track of the customer's journey and measure results in order to improve its content and design. You can find out what the users of your website are searching for and spending the most time looking at. This data will guide your design efforts in the right direction. You can simply do more of what people like and less of what they don't, which, with time, will lead you to the perfect design.

Just like your personal identity makes you unique, your brand identity is the special sauce that sets your business apart from every other. Although brand identity is a vast topic, we can easily simplify it with one word – design. As the latter has a very significant role in determining your overarching brand identity.

Keeping customer's attention is not an easy task because nowadays the consumer marketplace is filled with information almost beyond recognition. The thing that you need to remember is the importance of being receptive to your customer's needs and giving them the most accurate information in order to help them.
This is a key part of the so-called conversion rate optimization (CRO) process. As the latter is, in a word, the practice of bettering your website, as a whole, in order to increase the number of sales. CRO can involve numerous tools and strategies focused on that one goal.



What is conversion rate optimization (CRO) and how companies can benefit from it
As we mentioned, conversion rate optimization (CRO) is the process of increasing the percentage of website visitors that accomplish a specific action that you want them to do.
For instance, if you have a 25 percent conversion rate, that means 25 percent of the people that visit your website actually convert. It's like running a retail store. Lots of people might enter and browse, but some leave without actually spending money.

CRO is the process of enhancing your website and content to boost conversions. A high conversion rate means your website is well–designed, formatted effectively, and appealing to your target audience. The process of optimizing for conversions allows you to boost your number of highly-qualified leads, increase revenue, lower acquisition costs, obtain greater value from your current leads and customers.
Here is a list of few pages that will probably give the highest effort to results rate when optimizing them. Of course, the latter highly depends on your website structure and the products/services that you offer, but the pages in the list are such that most online businesses have them. Thus, they made it on the list. We will also share with you a few ideas on how to optimize those pages.
The Homepage is there to make the first impression on visitors and is an opportunity to retain those visitors and guide them further into your website. We have covered that in a previous article on optimizing the home page of a website.
Showcase your product
Create an appealing headline
Add a video to the homepage
Create or improve your main offer
Get feedback from your audience
A/B test your call to action(s)
Keep it simple
The pricing page can be the make-or-break point for many website visitors. There are a lot of places you can lose someone in the funnel, but the pricing page is one of the places where it hurts the most.
People who arrive here are the most primed to purchase, and while re-targeting campaigns can help mitigate the damage, ultimately, we want to maximize the rate at which
these warm prospects become customers.
Highlight a "Recommended" Option
For international audiences, provide automatic currency conversion
Use fewer words and more white space
Display transaction security badges
If needed re-order your pricing plans
Your Blog is a massive conversion opportunity for a website. In addition to publishing thoughtful content about your industry, a blog might be helpful if you want to turn your readers into customers. It is important to bear in mind some of the most common mistakes when you create a blog.
Actively promote your service, using pop-ups and CTA's
Add Search bar
Use creative titles for your articles
Optimize your content for the search engines
Actively promote your content on social media
You can also read: What Types of Blogs Will be Trending in 2020?
The Landing page is a specific web page designed to grab the visitor's attention, present them a specific product or service, and then encourage them to take the desired action. Find out What Is A Landing Page And How To Make It Successful?
Find out what brings people to your landing page
Identify barriers that are keeping people from converting
Create a survey to figure out what 'hooks' them or persuades them to take action
Get: Free Landing Page Hosting
Sign-up pages are known as "registration pages," and they all share the same goal: generate sign-ups for a service.
Make your call to action obvious
Simplify your sign-up form
Offer an Incentive (coupon or discount)


Product pages are describing a particular product or service. The product page plays a role in convincing your customer to make a purchase. Therefore, you'll want to fill your page with motivating, convincing text, and you should top it off with a strong call to action. Creating your product page in the right way to win customers.
Use impressive product photos
Provide a detailed product description
Optimize the page for mobile devices
The product page must feature a clear call-to-action buttons
Give your product page an engaging title
Optimize page speed
Your About page is one of the most important web pages on your site.About us is a page that is mostly used to give customers more in-depth information about you and your business.
Read: 3 Signs That Your About Page is Outdated
Here is how to make this page a great converting point in your website visitor's journey:
Tell а Story
Tell about your story in an easy and approachable way for the customer
Talk with your customers, not at them
Don't just say it, show it
Unleash Your Full Potential
Bearing this in mind, being successful is not easy to achieve but if you put enough effort to optimize your work and listen to your regular clients this can help you unleash your full potential.

Companies should invest in good design, to set themselves apart from competitors, to stand out, and to deliver to their customers the best online experience. If you want to take your business to the next level, you need to find out what your customers respond to, and what drives results for your business. If you take care of your website's design, you can assume that your business will thrive.