Honestly, one of the most daunting and challenging experiences you'll ever have is trying to collect your photography work into a portfolio. It's like making a mother choose her most favorite, successful and best-looking child out of her other children. This comparison would be almost accurate if that mother believed her children weren't good enough or didn't know how to present them in the right way. Now if we add up the struggles of creating all of that on the web, you can imagine the pain. The good news, however, is that the task isn't impossible and we are here to help. We've collected these 4 basic portfolio tips for photographers to make their journey effortless and delightful.
1. Question Your Motives
The most important step to take while walking this road is the one to your own intentions. After all, they are the driving force of your endeavor. Your portfolio is going to be the face of all of your work up until now and what you'll be able to present to your prospective customers or employers. That's why make sure you have the answers to these two questions before you proceed to the next steps.
What is it for? Creating a portfolio with this question in mind is vital. Maybe you want to apply for a job in the field of Photography, maybe you want to have an exhibition or maybe you would just like to have all of your best works collected at one place. Make sure you are aware of all of this as each of the purposes above requires a different set of photographs you might choose.
Each photo has a different purpose to fulfill and a different story to tell – that's why it's a good idea to consider your message when curating your artwork.
Who is it for? After you've answered the previous question, it's essential to think about your audience. An employer might have a different view at your work compared to an art gallery curator or a university lecturer. Keep your audience in mind as it defines your message as an artist.
2. Choose the Medium
 When it comes to presenting a work of art, the medium takes up a crucial part of the whole impression your portfolio is going to make. Even though you are probably aware that there are thousands of ways to present a visual content, there are a few worth mentioning.
A really popular medium is a PDF file and, if at this point you are still considering it, make sure you think twice. There are some pros, undoubtedly, like making the process much quicker and easier. Nevertheless, a PDF is one of the laziest and most boring ways of presenting a visual content and your audience will lose its interest right after opening the file.
Another conventional medium are online portfolio websites which offer an efficient way of showcasing your work. Curated and well- organized, your portfolio might find a great home on Behance or Flickr. As websites that have already earned a certain audience, they will provide enough attention to your profile as well. However, if you're planning on building an image of a professional photographer, it's better to expand your presence to your very own website.
Why Having Your Own Website is Crucial?
As we said, there are different ways to present a visual content. Having a personal website, however, is the most successful one and offers quite a lot of advantages.
Independence.

 One of the obvious reasons to own any personal website is the independence it gives to you. No one wants to wake up one morning only to find out that the online portfolio platform they use is gone extinct. You might think it's a hypothetical situation, but who would like to take the risk? Making your own website solves this issue as you have the opportunity of creating a backup whenever you decide.
Brand Building. Your brand is your face in front of your audience. Just like the features of the face are one of the easiest recognizable parts of the human body, the features of your brand should be recognizable to your prospects. A personal website is a guarantee for your quality content, credibility, and professionalism. That applies fully to photographers just like it does to businesses. If you want to earn authority as an artist and a professional, a personal website is the way to go.
Shining with Creativity. An online portfolio website provides a standardized frame for exhibiting your content. As you can guess, it's definitely not the brightest way to present your creative approach as an artist. As opposed to that, a personal website gives you the freedom and control you need to design and bring to life your ideas with as much creativity as you want. Your viewers will appreciate the journey you've created for them.
 As you can see, a personal website is not only convenient and efficient but also necessary for a professional photographer. Being able to email a link to your portfolio will complete your image as an artist. At the beginning you can easily start with a Free Hosting plan, as the images, you upload probably won't require a great amount of disk space. With the more visitors, you earn, however, you might want to start considering an upgrade in the future.
If you are undergoing your education, you can sign up for our Web Hosting for Students plan, which will enable you to use our premium services free of charge for the first year.
3. Choose a Theme
You know the feeling of picking the art pieces you want to present but still feeling some kind of gap between them. The theme is what glues all of these different art pieces together into one collective portfolio. It transfers your ideas into a visually comprehensible and coherent content and creates a certain atmosphere. By "theme" we mean two things:
The Style. You accept different dress codes as appropriate for different situations. If you're going to a fancy restaurant, you might want to get rid of your old sneakers. In the same manner, the style of the portfolio is inferred by the goals and the audience. If you're applying for a job as a portrait photographer it's better to choose mainly portrait shots. The same goes for the edits you apply to each piece. A black and white photography collection, as setting the mood as it might be, is probably not appropriate for a kids' party photographer.
WordPress Themes. The theme of your website is the skeleton of your portfolio. There are different options to choose from and as we've said here you can express your whole creative potential. I promise, I'm not trying to kill your vibe, but keep in mind that it's a good idea to consider the standards of visual presentation you can choose from. A grid gallery is probably more suitable for a set of photographs telling a story, while a list gallery is what you can go with if you're presenting landscapes and street photography as it allows the viewer to observe the details. In this case, you can also choose a slide gallery as it serves the same purpose, but includes portrait photography as well.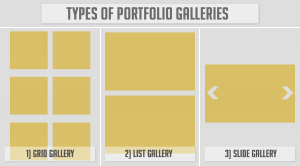 If you're still uncertain of the themes to choose from, you can see the list of the 10 Best Photography Themes for WordPress.
4. Curate the Pieces and Glue Them Together.
This step is not only worthy of a separate article but a whole book on the topic. Yet, we tried to come up with the two most efficient standards to pick your photographs by.
By content. This is one of the most intuitive tips you can follow. Usually, a visual piece has all of the content you need right in the objects captured by you, so all you need to do is combine the similar contents. If you're picking mainly female shots it's better to keep up with the same content, instead of jumping into a product photo.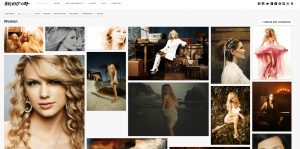 Portfolio by: Jeremy Cowart
By intent. This is another cunning criterion to follow. Each piece has a certain emotion woven into its pixels and that's your artistic intent. Don't be scared to create somewhat unexpected emotions in your audience by combining photographs with completely different content. As long as you follow an intent of a certain impression, it's all good for the cause.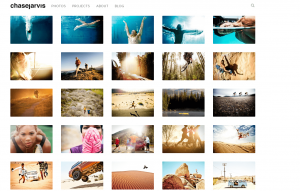 Portfolio by: Chase Jarvis
Now that we're at the end of your portfolio picking journey, it's time to celebrate your success. As a photographer, you know that one of the hardest things to do is to communicate your message to the audience. This is the whole purpose of your work and at this point, you are more than prepared to accomplish it. Following these steps will be a great guide on the road, but never forget that the best guide is trusting your own creative gut.