Believe it or not, more than half of the holiday shoppers say that they hate Christmas shopping. Main reason? Endless queues, constant pushing, cutting in line and annoying Christmas music exploding in the malls.
That is why, in the past decade, online shopping has become a savior for all of us who prefer the comfort of our own home while being productive and handling our Christmas duties.
Here comes the catch! If you're one of the owners of an e-commerce website, you know the struggles of attracting these customers to your shop. As they see endless irresistible offers every passing second, you need to put an extra effort to guide them on their way to the purchase.
1. Create a Gift Page
Most of the visitors around the holiday season are looking for buying gifts. A lot of them aren't sure what they want to purchase and don't have a great imagination when it comes to giving presents.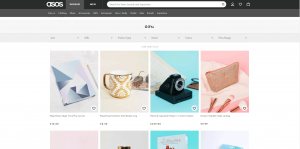 Adding a premade selection of gift-appropriate products will significantly ease your visitors' shopping journey. You can also include additional filters such as gender, age, relationship.
2. Offer Free Shipping
Free shipping is the greatest Christmas miracle one can find under the tree. Most of the people are looking for hot deals and once you ask them to pay for shipping, chances are they'll abandon their shopping cart.
Including shipping free of charges is a great way to attract Christmas shoppers as you're eliminating the only drawback of online shopping. Try adding the announcement about your free shipping offer on your homepage or as a header on your product pages.
3. Make Product Bundles and Baskets
Product bundles make you feel like you're giving special and complete gifts to your loved ones. Packs of compatible items achieve both: give an opportunity to save and offer an easy gift idea.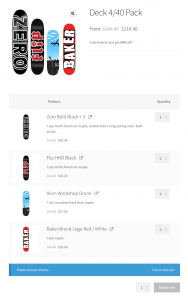 Grouping product means that you can sell more to one person while still maintaining sale prizes, thus making a win-win deal.
4. Send Discount Codes
Even though you might have announced sales on your website, promo codes to your most loyal customers go a long way.
Appreciating your customers' trust through a special holiday offer just for them will make them feel special and exclusive. You can achieve that by sending Christmas coupon e-mails and early shopping invitations. The special treatment won't go unnoticed.
Coupon codes are proven to be the best conversion practice.
Nevertheless, let us not forget the new customers who might not be yet familiar with your brand. They'll probably look for discount codes on social media and collective coupon directories such as RetailMeNot and Groupon.
Start a website in less than 20 minutes!
Prices starting at
$2.99
/year!
5. Set Up a Christmas Paid Search Campaign
Google loves Christmas. Let me rephrase that: Google adores Christmas. That's why our beloved search engine boosts your Christmas ad campaigns like crazy.
While setting up a Christmas PPC ad campaign might sound like a no-brainer, its impact is still worth mentioning. Including more holiday-related keywords will increase your chance of conversion in the season. A great page you can boost around the holidays is your gifts selection landing page. 
6. Celebrate on Social Media
While your website is the space where you could actually perform the conversion process, social media is where you can interact with your users.
We know that Coca-Cola owns Christmas and it's hard to compete with them. But, why compete? Using them as a source of inspiration for your holiday social presence will help you generate ideas for your posts.
Great ways to engage social holidays shoppers are:
challenges
questions and games
shareable content that will provoke people "tagging" their friends
exclusive promotions
7. Create a Giveaway
Nothing says Christmas like present-giving. Besides of the emotional fulfillment you achieve through giving, you can also let people know you care about them.
You can implement the giveaway on your website and your social media channels through games, challenges or raffles.
Of course, it's still important to remind people about your brand and your own product, so you can either give away your products, or accessories and services associated with it.
8. Remind about Abandoned Shopping Carts
Abandoning shopping carts always has a reason. Whether the person changed their mind, didn't expect the final prize, or simply got interrupted, he left it for a reason. Now, we, as marketers rely on that last case.
A great way to remind people about their abandoned shopping carts is through automated e-mails.
It's important to send the e-mail at the same time of the day the cart was abandoned on the following day. That time is supposed to be a convenient time for the customer to complete his shopping or just hang out online.
9. Optimize your Checkout
The main reason for thousands of people to abandon their shopping carts daily, however, is the long and overly complicated checkout process.
You lose about 20% of the users after each click. A great way to optimize your sales is through a one-page Checkout process.
That's why turning your checkout into a single page where you quickly collect only the necessary information is essential in the holiday season. At this time of the year, people are in a hurry, shopping in big quantities and the last thing they want is wasting their time clicking on multiple pages.
Optimizing your checkout page will ensure that you don't lose your users down the checkout strainer.
10. Allow Guest Checkouts
If you're doing your holiday marketing right, you'll be able to drive new prospects to your website daily.
Some of them might not have an account on your website and might not come back ever again. Supporting the previous point, people will probably quit if you ask them to create an account in order to finalize their purchase.
That's why, a great practice around the holiday season is allowing people to check out as guests and thus, making their purchasing process shorter and simpler.
'Tis the Season to be Jolly
As the holidays have turned into a fierce battle for customers' attention and commercial growth, it's still important to remember the true value of Christmas.
Implementing the spirit into your website is inevitably going to boost your conversion rate and help you build your image of a credible brand. Thus, you'll be able to reach larger audiences and widen your prospects pool.
Nevertheless, let us not forget to humbly appreciate our families, friends, customers, and chances. Through that sincere appreciation and love, all of your goals as a web creator will be accomplished with ease.
Have a warm holiday season!