Once it's officially the beginning of the new year and you've had the time to test your resolutions, it's time to track your progress so far. While it's way too early to qualify your work, you can always examine the services you've trusted.
As a website owner, you know how important the web hosting provider is for your performance.  That's why monitoring it regularly could provide a fuller understanding of the processes behind your performance.
Why do you need to track your WordPress hosting performance?
First of all, having a WordPress website means constantly keeping your performance on the track. Thus, regular updates and checks are an essential part of your website maintenance.
Next, ensuring you have a clear view of your web hosting provider's performance is part of the care you take of your website. You're responsible for monitoring the service you've purchased and your website's uptime.
Essentially, web hosting providers play a huge role in your website's health and tracking their performance could help you protect and grow it in the future.
Start a website with a 99.9% uptime!
Prices starting at
$2.99
/year!
Uptime
You might be wondering whether you need to monitor your website's uptime. Despite the fact that most web host providers manage to maintain a high uptime percentage, unpredictable problems may occur.
Being the first to learn about any issues concerning your website could prevent disappointing your users and losing precious customers. That's why trusting a tool that warns you whenever your website is down is a must.
What does downtime mean?
A website downtime is a period in which users cannot access that website. This can have a negative impact on its performance in two ways:
More than half of the people who cannot reach a certain website once, won't try again.
A prolonged downtime could cost you traffic and revenue.
Potential visitors' behavior towards a website downtime harms your search engine rankings.
What can you do?
As we've said, you're the one responsible for taking care of your website's uptime. You can do that by:
1. choosing the right hosting provider – When purchasing a WordPress web hosting, there are several things to take into account. The uptime of the provider is one of them.
2. calculating your downtime cost – When you're running an e-commerce business website, every little hiccup could cost you revenue. You can use the Downtime Cost Calculator to monitor your loss.
3. using a free online tool to warn you whenever there's a downtime – The most important point here is that you can keep an eye on your website's performance without actually checking it every second. There are numerous tools that will warn you through an e-mail should any issue occur.
Host-Tracker.com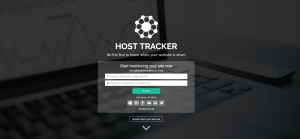 The one that I would recommend is Host Tracker. It's a 30-day free trial tool that detects problems on your website and server at specific intervals. It then sends completely free alerts to your e-mail when you're website is down. From then on, it collects uptime statistics which are later reported to you.
Besides its numerous advantages, the tool is premium once the 30-day trial is over. But don't worry. I've prepared one more tool that will have your back literally… forever.
BasicState.com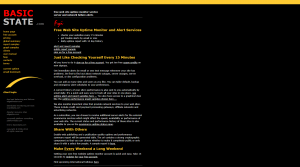 BasicState is generally speaking the same service but with a worse design. Anyway, it's still a precious little tool to monitor your performance on 15 minutes check frequency. Alerts are sent either as a text on your phone or as an e-mail. You can also go back up to 14 days to check your daily reports.
Speed
One of the most important ways your web hosting impacts your website is through its loading speed. Even though it might seem obvious, people tend to usually neglect this focusing only on the content of the pages.
What does speed mean?
The speed of a website is the amount of time it takes for its page to load. The slowlier a website loads, the more people will abandon it before even seeing it. This results in:
high bounce rate – It's well known that the bounce rate plays an enormous role in the search engine algorithms. Therefore, it can significantly lower your SEO performance.
user frustration – Just like the downtime, the speed affects the future decision-making of your visitors. People usually avoid slow websites or leave them right away.
What can you do?
While the hosting provider does have an impact on your website's speed, there are still a number of practices that can ensure a fast loading time.
1. Optimize your pages. Make sure you've excluded heavy elements, large images, or other multimedia that might slow your website.
2. Keep an eye on your loading speed. Once you notice unusually slow loading speed, make sure to examine your page's components to solve it. A great way to do that is by using an online tool that tests and analyzes the loading time.
Pingdom Website Speed Test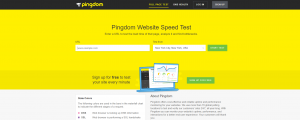 Pingdom's Speed Test tool allows you to analyze the load speed of your websites and learn how to make them faster. It gives you a full features overview by matching the end – user's experience exactly. You pick a test location and Pingdom tests your website through its dedicated servers. The state colors, content types, and server response codes illustrate your full page health and help you understand the analysis.
To sum up…
To track your WordPress hosting performance is not only an opportunity to have a glance at the internal processes behind your website's work but also part of your responsibilities as a website owner.
We, at AwardSpace, have proved over the course of the past 14 years to offer the highest performing WordPress hosting on the market.
That's why through frequent analyses of our servers' speed and uptime we're able to ensure a secure environment for more than five million websites worldwide. Putting your trust into a professional service is the foundation of a successful website. And that's what we're best at.