Say, you've already chosen a WordPress hosting service for the website you are about to create. What's next is to install WordPress on your hosting account, and to dive into the universe of the WordPress themes.
The WordPress theme that you'll safely call the best depends on what you'll write about in your blog, and, of course, on your personal preferences. Therefore, any list of this kind is somewhat limited.
Yet, when you are looking for a theme for your new WordPress based blog, you can take into account the themes that are listed here, one of them may be the best WordPress theme for the blog, as far as you are concerned.
Elegant Themes' Divi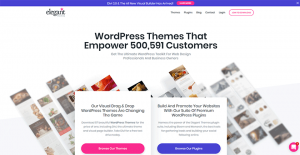 As far as I am concerned Divi is the best theme for a blog, that there is. The genius of the theme is the fact that it's absolutely nothing at all. Divi is just a white template. Nothing more, nothing less.
Yet, by adding the Divi Builder that white template could become anything you want, or need. Your blog will be exactly what you want it to be. Granted, you are capable of understanding how the Divi Builder works, and have a taste of design.
Divi is an expensive theme. Sure. Yet, by investing in getting it, you'll be able to create as many websites, as you wish, and you'll get lifetime access to the plugins and updates that are up to come. And believe me, Divi is often updated.
Unicode by Undsgn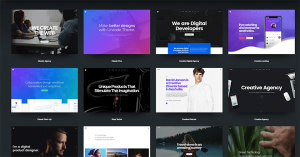 When searching for the best WordPress themes for blogs, as far as I am concerned, versatility is everything. By getting one multipurpose theme, you'll get the option to change the design of your blog, so that it will never be out of date.
Unicode is another great solution for a WordPress website. Especially for a blog. It has an immense number of options for the design of the page. And for the style of the blog, and of the posts. Unicode is a responsive theme, with great built-in design layouts.
The only downside is that you get a license for only one website. But on the bright side, the license of the theme costs only $59.
CheerUp by ThemeSphere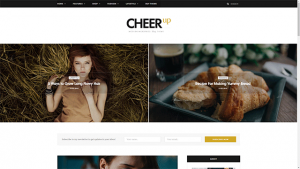 If you are about to pay for something why limit yourself and purchasing a single-purpose product? Especially if you are able to buy something that is multipurpose, there is no point in doing the opposite.
CheerUp is a great multi design theme, that promises 500+ homepage types. Which, of course, means that you'll be able to rearrange the elements of the homepage in virtually endless ways. You can make just a little change here and there, and there is your new home page.
The theme promises as well 11 absolutely unique pre-designed homepage layouts.
Don't hesitate, go check them out.
For the price of $32, CheerUp is a great deal.  ThemeSphere easily could charge more for this product.
Edition by Themewich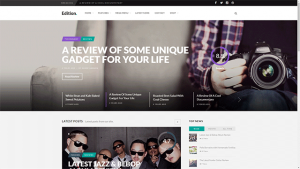 Edition is by far one of my personal favorite themes. The first time I saw the theme was on the Philosophical Salon's website. And I was highly impressed.
Edition is a persistent and visually appealing theme.
The clients of Themewich are pleased not only with Edition itself but with the support, as well.
By using this theme, you can create a blog about virtually anything.
The edition is not an expensive theme, but it is not a cheap one, as well. You can get it for $59.
The already listed themes are really one of the best WordPress themes for blogs. Yet, all of the listed themes, are paid.
And I hope that by now you know to look for free WordPress themes in the integrated WordPress search engine, which we've covered in our WordPress tutorial on how to install a WordPress theme.
Although, you can use the feature filter to find exactly what you are looking for, here are 4 of the best free WordPress themes for blogs.
Good News Lite by ElectraThemes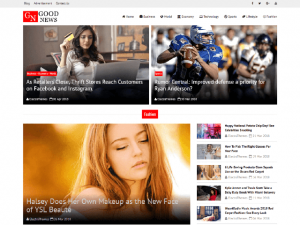 Good News Lite is obviously a theme for a news website. Yet, the design of the news websites is more or less similar to the design that you'll want your blog to have. A list of the latest posts on the first page with their featured images, and a sidebar directing to recent or popular posts.
As everything in WordPress, the main color of the theme is changeable, which presents you with a little more versatility. By adding plugins that are suitable, you can make this theme really work for you.
Financial News by TodayTrader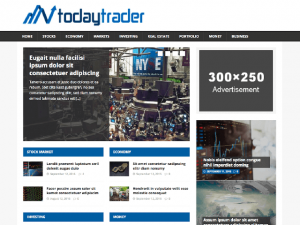 Financial News is yet another news theme. Still, this theme as well owns the features that you may need to create a beautiful and reliable blog.
The design is simple, yet visually appealing and highly suitable for any money, technology, political or philosophical blog.
FlatMagazinews by Theme Everest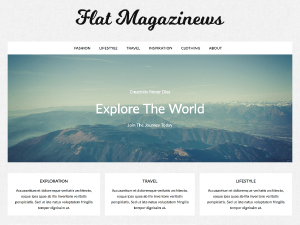 Sometimes you don't the users of your website to be distracted by anything else around your content. And that is a good way of thinking.
Too many clickable elements on your website may make the readers disengaged with the content.
FlatMagazinews is a minimalistic responsive theme that works with most schema markups, so you can have reviews or another type of affiliate content.
ModernBlogily By Theme Everest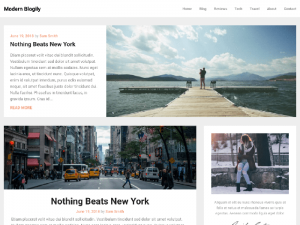 One more of the Theme Everest's product has made it to the list. As far as I am concerned the design of this theme makes it the best free WordPress theme for a blog.
ModernBlogily has a nice, modern design. It is fast, and responsive as well.
Thus, if you are on a tight budget, but still want to create a blog, try ModernBlogily.
More articles on Blogging