Communication is really the first thing we learn as we grow up. How to ask for what we want, how to explain what we really need. How to tell people what we feel or think. As years go by it gets harder, and harder, to express it all. But it doesn't mean communicating changes the need of something to be said or asked. This is why allowing people to communicate with you with a simple click on a button, is so important.
What is Click to Call?
"Click-to-call, also known as click-to-talk, click-to-dial, click-to-chat and click-to-text, namely Web call is a form of Web-based communication in which a person clicks an object (e.g., button, image or text) to request an immediate connection with another person in real-time either by phone call, Voice-over-Internet-Protocol (VoIP), or text. Click to talk requests are most commonly made on websites but can also be initiated by hyperlinks placed in emails, blogs, wikis, flash animations or video, and other Internet-based object or user interfaces."
The definition that Wikipedia gives about click to call is the closest to what it really is. It sounds a little bit confusing, but I guess it's easy to understand what the button is used for.
Actually, there is often a confusion between click to call and call to action buttons, but there isn't really a connection between them. Call to action buttons are leading the visitor of a website to the desired page and click to call is simply allowing website visitors to connect with you (the owner of this website).
Do You Need a Click to Call Button and Why?

Before I present the best free click to call plugins for WordPress, let me quickly share with you the need of having it at all. Now, a lot of people are using web hosting for different reasons and their businesses are of a different essence.
You need to have a click to call button only if it's relevant for website readers to contact you. For example, you are a personal blogger and someone wants to contact you for future joint work, or you are providing services or products on your website and your customers want to contact you.
Start a website in less than 20 minutes!
Prices starting at
$2.99
/year!
After all the talk about customer support services and FAQ page, you must think why do you need to talk to your customers. You probably don't have time, especially if you are a big company. But, honestly, there are a lot of reasons why you must have a click to call.
88% of visitors are more likely to contact your company if you provide a "click-to-call" button on your website. 200% increasion in call-to-conversion rate is led by click-to-call button. 88% of consumers who search for a type of local business on a mobile device call or go to that business within 24 hours. 64% of customers become frustrated if they visit a website that doesn't list a phone number.
If these numbers and statics are not enough for you, I don't know what will be! Apparently, it's one of the most important things for customers that want to do business with you or simply use it.
Having a click to call increases the conversion rate, enhances the use of mobile and provides amazing customer experience on your website. The best part is – it's free, easy and fast! You don't have to spend a lot of time thinking if you need it. By the time you convince yourself, you'll be done with installing it! No more stalling, here are the best free click to call plugins for WordPress.
Call Now Button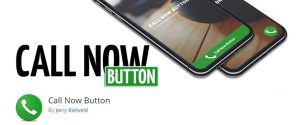 Call Now Button plugin is designed only for the mobile-optimized themes. The button is placed in the bottom section of the screen, that will help users to easily get in touch with you.
Setting the plugin is very easy. Just enable, enter the mobile number, and you're done. You can also add some custom text to the button.
The appearance of the clicks to call button can be changed from the dashboard setting panel. With this plugin, you can also change the position, click the tracking option or limit the appearance of the button form the setting options.
Really Simple Click to Call Bar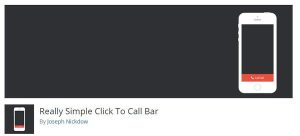 Really simple click to call is a WordPress plugin with 10,000+ active installations! This plugin adds a call bar or a call button on the bottom of the website. If you're using Google Analytics Universal it automatically adds events! Isn't that amazing?
You can download it from WordPress.org for free. You can show the button on the screen whose width is under 737px and you can easily customize it by your desires.
Excitel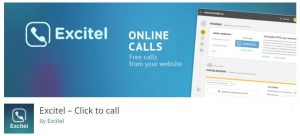 Excitel WordPress plugin lets you build any kind of buttons right from your WordPress Dashboard. Like the rest, it's easy to change it's looks, place, and functions on your homepage or any other.
This plugin has an advanced setting with which you can set the working hours to receive the calls. So, you won't be bothered if it's not a good time. You can also forward the calls to the other operator or manager. You can maintain the statistics of call history, audio recording, location, IP and others.
Click to Call Conclusion
These three WordPress plugins are free, easy to install, simple to use and perfect for your click to call button needs. You can change their looks, locations, the time available to call, and a lot more advantages.
It doesn't take a lot of time to do it, but it will save a lot of your customer's time. Their experience on your website should be pleasant and creating buttons that helps them is one way to do that. So, don't wait any longer to raise your conversions, increase revenues and satisfy your customers.
If you are having trouble with installing buttons or plugins, don't forget to check out WordPress Tutorials page. There you can find How to Add a Plugin to WordPress, How to Create a Button in WordPress With a Plugin, or How to Add a Contact Form in WordPress, and a lot more interesting and useful tips.